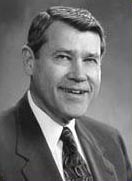 Richard H. Stanley
---
Richard H. Stanley, 63MS, chairman of the board of Stanley Consultants, Inc., has distinguished himself both as an engineer and as a societal leader through more than 40 years of service to the University of Iowa, his profession, his community, and the world.
Beyond his leadership in the engineering field through one of the premier engineering consulting firms anywhere, Stanley has reached out to find ways to benefit humanity. His efforts began at home, in his native community of Muscatine, where he worked in varied community and church activities, served as the initial board president of the Eastern Iowa Community College, and led efforts to promote the growth and development of the Muscatine-area medical care system.
But Stanley's commitment to people embraces the globe, too. He inspires national and international initiatives for a more secure, peaceful, free, and just world as president of the Stanley Foundation, and he works relentlessly to promote improved international relations and a reformed and strengthened United Nations. As chair of the board of the Northeast-Midwest Institute, he has provided invaluable advice and assistance to U.S. congressional efforts to meet the development needs of the country's midwestern and northeastern regions.
Stanley's contributions to higher education are outstanding. As a member of the College of Engineering Building Campaign Steering Committee at the University of Iowa, he has counseled the college in achieving ambitious fundraising goals for its capital improvement project. He and his wife, Mary Jo, also generously gave to the project as part of a major leadership gift that included pledges from the HON Industries Charitable Foundation, the Stanley-University of Iowa Foundation Support Organization, and Stanley Consultants Charitable Foundation. As a result of the gift, the 160-seat lecture hall in the new portion of the Seamans Center for the Engineering Arts and Sciences will be named Stanley Auditorium.
Called a Renaissance man and "a builder in the finest sense of the word" by Iowa's U.S. Representative Jim Leach, Stanley has earned a battery of professional awards and recognition based on his lifelong commitment to industry and public service. An inductee in the University of Iowa College of Engineering Distinguished Alumni Academy, Stanley has received the American Consulting Engineers Council Distinguished Award of Merit and the American Association of Community College's prestigious Harry S. Truman Award. Presented to a person outside the field of education who makes major contributions to community colleges, the honor recognizes Stanley's work to bring "global" education to community colleges across the nation.
With his rich history of leadership and his passion for professional and civic duty, Stanley stands as an international model for young engineers and as an exemplary alumnus of the University of Iowa.
Stanley is a life member of the UI Alumni Association and a member of the UI Foundation's Presidents Club.