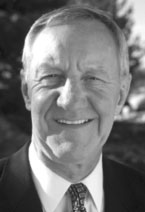 Norman R. Nielsen
---
Norm R. Nielsen, 86PhD, has served public education in Iowa for more than 40 years as a teacher and coach, high school principal, school district superintendent, and administrator of a community college.
For 19 years prior to his retirement in 2004, Nielsen was president of Kirkwood Community College in Cedar Rapids, where he exhibited a great understanding of the community college mission and the notion of connectivity between the community and the college. Under his leadership, Kirkwood opened the doors of educational opportunity to thousands of nontraditional students, as well as people and businesses seeking workforce training.
Kirkwood has continually been recognized as a leading community college in the nation. In 2001, the National Alliance of Business selected Kirkwood as Community College of the Year, and in the same year, the Association of Community Colleges selected Nielsen as Executive Officer of the Year from 1,240 community college leaders nationally.
Kirkwood Community College offers career training and college preparation in more than 100 areas of study for its more than 15,000 students, partnering with numerous state and local government agencies and private businesses to assist with job development and training. Thanks to Nielsens educational entrepreneurship, Kirkwood was able to translate regional learning needs into innovative and valuable programs, thus educating critical components of the areas workforce.
Nielsen has also made significant contributions to the community and the social infrastructure of Iowa through his commitment to volunteer work for health care and other organizations. He served for ten years as director of St. Lukes Hospital in Cedar Rapids and was one of the longest serving directors of Iowa Health System, the states oldest and largest integrated healthcare organization. He is also an advisory board member for the UIs Holden Comprehensive Cancer Center.
Nielsen has been an active Rotarian since 1971 and was chairman of Priority One, Cedar Rapids highly regarded economic development program. He has served as a director of the Cedar Rapids Chamber of Commerce and on the board of directors of U.S. Bank, Iowa City Area Development, United Way of East Central Iowa, and Junior Achievement.
On the state and national levels, Nielsen has participated as a board member of Iowa Economic Development, Workforce Development Council, Iowa Student Loan Corporation (president), Iowa Association of Community College Presidents, American Association of Community Colleges, League for Innovation in the Community College (past president), and Community College for International Development.
Beyond his considerable accomplishments in transforming the face of community colleges in America, Nielsen has generously shared his experience with others. University of Iowa President David Skorton has called Nielsen a mentor, the exemplar of a higher education leader who is interested in the excellence of the students experience, the importance of attending to faculty and staff concerns in the institution, and the greater service role of higher education in the community and state.