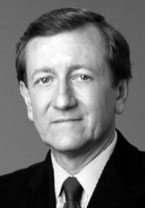 Brian Ross
---
Brian E. Ross, 71BA, is a familiar face on network television, where he has achieved a reputation for unquestioned professionalism and ethics while gaining national acclaim as an investigative journalist.
Born and raised in Chicago, Ross developed a keen interest in revealing corruption and seeking justice. As a journalism student at the University of Iowa, he worked for KWWL-TV in Waterloo, where his coverage of the Vietnam anti-war demonstrations won him early recognition. Since then, he has broken national and international stories that have made headlines around the world—covering everything from Colombian drug cartels to exploitation of workers to the links between politics and money to the Teamsters Union to organized crime. His hard work has earned him nearly every major award in journalism.
From his first full-time job at KWWL, Ross moved on to work for WCKT-TV in Miami and WKYC-TV in Cleveland, before joining NBC News in New York City. From 1975 to 1994 he served as a correspondent for NBC News, and from 1994 to the present he has been chief investigative correspondent for ABC News. He has reported extensively for World News Tonight with Peter Jennings, 20/20, and Good Morning America.
It is not just the breadth of Rosss reporting that has won his work national acclaim, but the depth of his belief in telling the public the truth. Even in his most controversial stories, which have explored topics from campaign finance reform to child labor in third world countries, he focuses on the facts and the larger truths they reveal. I put my heart and soul into every single story, Ross has said. I owe that to these people to bring every ounce of skill to a story.
Rosss numerous honors include the Robert F. Kennedy Award in 1979, two Sigma Delta Chi Awards for excellence in journalism, four National Emmy Awards, three Overseas Press Club Awards, four National Headliner Awards, and two Peabody Awards. In 1998, he was inducted into the University of Iowa Journalism School Hall of Fame.
When he spoke at the School of Journalism and Mass Communications Fourth Estate Banquet in 2000, Ross called his UI degree one of his greatest accomplishments. He has shown his appreciation by giving back to the school in valuable ways.
Ross serves on the professional advisory board for the journalism school, where he helps guide the curriculum and ensure that students are learning the skills they will need in real-world journalism. He shares his expertise both as a consultant and through presentations to UI faculty and students. Ross is also a member of the fund-raising campaign committee for the School of Journalism and Mass Communication, where he has been a strong advocate for the new journalism building, participating in key fund-raising events and appearing in the schools campaign video. His ongoing support has proven invaluable in reinforcing the UI programs excellent reputation and ensuring its growth far into the future.
A life member of the UI Alumni Association, Ross warrants media coverage as one of the most prominent and respected graduates of the University of Iowa.