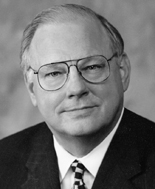 James D. Ericson
58BA, 62JD
Achievement 2000
---
James D. Ericson, 58BA, 62JD, is chairman and chief executive officer of Northwestern Mutual, the largest provider of individual life insurance in America. Northwestern Mutual is headquartered in Milwaukee and has assets of $90 billion.
Ericson graduated Phi Beta Kappa from the University of Iowa in 1958 with a degree in history. In 1962, he went on to graduate from the Iowa College of Law, where he was a member of the Law Review.
After practicing law in Omaha, Ericson joined Northwestern Mutual in 1965 as an attorney in the law department. Showing a capacity for handling diverse and complex assignments, he moved into other positions, including Assistant to the President, Vice President of Policy Benefits, General Counsel and Secretary, and in the 1980s, Chief Investment Officer. He became the company's 15th president in 1990 and added the title of chief executive officer in 1993.
As CEO, Ericson has directed a successful strategy of strengthening Northwestern's core life insurance business while adding select financial services to meet more needs of its three million policyowners. In 1996, for the first time in its history, Northwestern Mutual seized industry leadership in individual life insurance in force, a position it still holds with more than $600 billion in force.
At the same time, "The Policyowners Company" has remained true to its name by steadily increasing policyowner value. In 1997, the company became industry leader in life insurance dividends paid to policyowners. This year, the company is paying record dividends of more than $3 billion, by far the industry's highest total.
Northwestern Mutual's reputation has risen to new heights under Ericson's leadership. Each year since 1983, the company has been named the most-admired U.S. life insurance company in an annual survey conducted by Fortune magazine. A new global survey conducted by Fortune recently found that Northwestern Mutual is also the most admired life insurance company in the world.
Ericson credits his boyhood and education in Iowa for much of his success. He has said, "I grew up believing in certain ethics and morals, that there's a difference between right and wrong, and that actions have consequences. These values have proven to be invaluable in my career and in my life."
Since his graduation, Ericson has contributed annually to the Iowa Law School. Northwestern Mutual also offers UI student interns the chance to hone their actuarial, legal, marketing, and management skills and employs a number of other UI graduates.
Consistent with his values, Ericson's work in industry, civic, cultural, and educational affairs is extensive. He served as 1999 chairman of the American Council of Life Insurance, an industry trade association representing more than 500 US life insurance companies. Currently, he is chairman of the United Way of Greater Milwaukee and the Metropolitan Milwaukee Association of Commerce. He is a director of the Milwaukee Redevelopment Corporation, Greater Milwaukee Committee, Milwaukee School of Engineering, Medical College of Wisconsin, Marcus Center for Performing Arts.