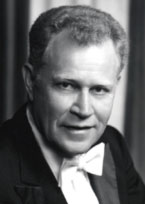 James A. Dixon
52BM, 56MA
Faculty Staff 2005
---
James A. Dixon, 52BM, 56MA, chose to lead the majority of his career from his position as conductor of the University of Iowa Symphony Orchestra, a post he held for 40 years. Focused always on the music and showing a remarkable empathy for the musicians under his baton, Dixon, now an emeritus professor, has brought national attention to Iowas School of Music and made this region a center for American orchestral music.
In addition, Dixon served for 29 years as music director and conductor of the Quad City Symphony Orchestra, retiring from that position in 1994. He is widely credited with building the Quad City Symphony Orchestra into an ensemble of musical distinction that is respected to this day for the innovation of its programming and unquestionable artistic integrity.
Born in Estherville, Iowa, and raised in Guthrie Center, Dixon studied privately for nine years with his friend and mentor, the renowned Greek conductor, pianist, and composer Dimitri Mitropoulos. It was when he returned to his home state that Dixons musical life crystallized. When he was awarded the Ditson Conductors Award for 1980 by Columbia University, the presentation included the following words: You were born, nurtured, and educated in this part of our countrys heartland. After whatever sojourns&you have returned. At a time when it is tempting to identify conductors by their rootlessness and their ability to be on two continents at the same time&your centeredness is becoming.
One of the proudest moments for the UI Symphony and the University of Iowa came in 1976, when the International Society for Contemporary Music met for the first time in the U.S. The society selected just three orchestras from across the country to perform the extensive program of new works, and the UI Symphony was one of these. Seiji Ozawa, world-renowned conductor of the Boston Symphony, gave the UI Symphony further recognition following its performance, when he commended its excellence.
A great part of Dixons achievement came as the result of earning the highest admiration and respect of his orchestra members through his musical sensitivity and talent, self-discipline, and warm personality. Many attribute his success as a conductor to his ability to inspire his musicians to want to perform well.
Through his long career, Dixon won countless awards recognizing his significant contributions to the field of music, from the Elizabeth Sprague Coolidge Medal in 1955, given to the finest young artist of the year for conducting, to the Gustav Mahler Medal in 1963, to a 1978 Laurel Leaf Award from the American Composers Alliance in New York, to several honorary doctorates awarded in the 1980s. He has mentored more than 30 conducting students and conducted world premieres of nearly 40 new works.
A life member of the University of Iowa Alumni Association and a member of the UI Foundations Presidents Club, Dixon has contributed greatly to the cultural life of his alma mater, his state, and beyond. For his complete commitment to an outstanding career as a musician and educator, he is most deserving of the UIAA Distinguished Faculty/Staff Award.