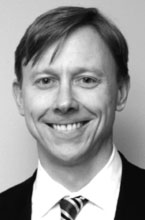 Brian Hook
---
Brian H. Hook, 99JD, has an office in the West Wing of the White House, just steps away from the Oval Office and only five years after graduating with distinction from the UI College of Law.
As a student in the Iowa law school, Hook proved his leadership potential, serving effectively and imaginatively as president of the Federalist Society, where he worked well with those holding political views different from his own. Respect for all and good humor are the hallmarks he honed in that positioncharacteristics that would serve him well in his later career.
Hooks career in politics began even before he finished law school. In the early 1990s, he was legislative assistant to Iowa Congressman James Leach, advising him on defense issues and national security policy.
He served Iowa Governor Terry Branstad as deputy legislative liaison from 1996 to 1997, and, in a short time, his intelligence and personality allowed him to have an impact in a legislative body often dominated by people who had served as long as he had lived.
After graduating with distinction from law school, Hook spent four years as an associate in the Washington, D.C., firm of Hogan & Hartson, the largest and oldest law firm in the nations capital. Among other assignments, he acted as counsel to various corporations regarding mergers and acquisitions and corporate governance. During his time in private practice, he also testified before the House Intelligence Committee on information sharing between the intelligence and law enforcement communities.
In 2003, Hook joined the U.S. Department of Justice as counsel in the Office of Legal Policy, where he represented the executive branch before the 9-11 Commission and worked with the U.S. Senate to confirm the presidents judicial nominees. He also developed federal regulations to address corporate fraud in the wake of the Enron scandal.
Today, Hook holds the position of special assistant to the president for policy, office of the chief of staff. In this role, he develops and coordinates domestic and homeland security policy for the president and his chief of staff, Andrew Card.
Despite his work inside the Beltway, Hook has never forgotten his Iowa roots. He has been called upon numerous times in Washington to speak to Iowa gatherings and to welcome Iowans visiting the White House, always serving as a warm and willing host.
A long-time season ticket holder for both Iowa basketball and Iowa football, he can often be found on football Saturdays not in the White House Rose Garden, but in Kinnick Stadium (or with the Washington, D.C., Iowa Club) avidly enjoying his Hawkeye team.
In only a short time since his graduation from the UI College of Law, Hook has risen to professional success on a national level. He has certainly distinguished himself as one of the universitys most impressive young alumni and he richly deserves this recognition from the University of Iowa.