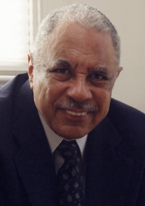 Thomas J. Anderson
---
Thomas Jefferson T. J. Anderson is regarded as one of the most important American composers of our time for his ability to create music that transcends national, cultural, and ethnic boundaries, melding classical Eastern and Western traditions with the modern African-American experience.
Born in Coatesville, Pennsylvania, Anderson pursued an undergraduate degree in music from West Virginia State College and a masters degree from Pennsylvania State University. He attended the Cincinnati Conservatory of Music and then came to the University of Iowa to study composition with professors Philip Bezanson and Richard Hervig and to complete his Ph.D. degree.
After graduating from Iowa, Anderson taught music at Langston University and Tennessee State University. In 1968, celebrated music director Robert Shaw selected him to serve as composer-in-residence with the Atlanta Symphony. In 1972, the same year he would embark on an almost 20-year academic career at Tufts University, Anderson achieved international acclaim for his orchestration of Scott Joplins opera, Treemonisha, which was premiered by Shaw and the Atlanta Symphony.
Anderson has published more than 80 works that include operas, symphonies, and other orchestra works, band music, choral pieces, and chamber music. Renowned musical organizations and artists, including the Symphony of the New World in New York, the American Wind Symphony, the Cantata Singers in Massachusetts, Harvard Musical Association, Yo Yo Ma, the Bill T. Jones/Arnie Zane Dance Company, and Chanticleer, have commissioned Anderson to compose music featuring his trademark rhythmic complexity and instrumental color.
Anderson has also received grants for commissions from leading cultural institutions such as the Fromm Music Foundation, the National Endowment for the Arts, the ASCAP Foundation, and Meet the Composer.
After a long and distinguished academic career, Anderson retired in 1990 as the Austin Fletcher Professor of Music Emeritus at Tufts University, where he served as chair of the department for eight years. As a lecturer, consultant, and visiting composer, he has appeared throughout the U.S., Brazil, Germany, France, and Switzerland. He has been a fellow at the MacDowell Colony in New Hampshire and at the National Humanities Center, as well as a scholar-in-resident at the Rockefeller Foundations study and conference center in Bellagio, Italy.
Among Andersons many awards and accolades are six honorary doctorates, a Guggenheim fellowship, honorary membership in Phi Beta Kappa, a distinguished alumni award from Penn State University, and a distinguished achievement award from the National Association of Negro Musicians. In 2005, Anderson was the only composer elected to the American Academy of Arts and Letters.
Anderson presently lives in North Carolina, where he continues to compose full time. He has retained a strong connection to the UI and, this fall, as part of the celebration of the 100th anniversary of the School of Music, he will return to Iowa City to present master classes and meet-the-composer sessions. While on campus, Anderson will also attend a premiere concert of an orchestral work commissioned from him by the School of Music. In celebrating its history and legacy, its only fitting that the School of Music should turn to one of its most distinguished alumni.