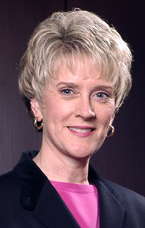 Ruth Van Roekel McGregor
64BA, 65MA
Achievement 2006
---
Ruth Van Roekel McGregor, 64BA, 65MA, has devoted her life to the law, bringing to it qualities of calm, practicality, and fairness derived from her Iowa roots. Recognized as one of the leading judges in the nation, McGregor was appointed as Chief Justice of the Arizona Supreme Court in 2005.
A native of Manson, Iowa, McGregor graduated summa cum laude with a B.A. degree in communication and theater studies from the University of Iowa in 1964. She then pursued an M.A. degree in the same discipline at Iowa before completing a J.D. degree from Arizona State University College of Law in 1974—where she graduated summa cum laude and received the Armstrong Award as the outstanding graduate. In 1998, she was awarded an LL.M. degree from the University of Virginia.
McGregor worked in a private law practice for 15 years with the Phoenix law firm of Fennemore Craig, one of Arizonas largest and most respected firms. She interrupted a very successful labor and employment practice to accept a one-year judicial clerkship with United States Supreme Court Justice Sandra Day OConnor when OConnor joined the Supreme Court in 1981.
McGregor returned to private practice for seven years before becoming a member of the Arizona Court of Appeals from 1989 to 1998, serving as Chief Judge from 1995 to 1997. She has been a member of the Arizona Supreme Court since 1998.
In 2005, McGregor was honored as the second-ever recipient of the American Judicature Societys Dwight D. Opperman Award for Judicial Excellence. The award was presented on September 19, 2005, at a ceremony presided over by McGregors friend and mentor, Justice OConnor.
McGregors distinguished career on the bench has also been reflected in her exemplary history of public service. She has been active in the Arizona Judicial Council for the past 15 years and is currently serving her second term as a council member. She is a member of the Arizona Judges Association and served as its president in 1993 and 1994. She has been a member of the National Association of Women Judges since 1990, serving six years on its executive committee and two years as vice president, and she has also contributed her skills on behalf of the American Inns of Court Foundation and the Arizona Inns of Court.
McGregor has shared her considerable wisdom and experience on the international level, too. As a member of the American Bar Association, she has been a participating member of the Central and East European Law Initiative since 1991, including two tours in Lithuania to help that countrys parliament draft a constitution and restructure its judicial system. She also served as a member of a training seminar for members of the Constitutional Court of the Federation of Bosnia-Herzegovina.
In addition to being noted for her intellect, integrity, and non-partisan approach to law, Justice McGregor is well respected and loved by many in her field, who praise her warmth, generosity, humanity, empathy, and mischievous sense of humor.
The University of Iowa is proud to recognize Ruth Van Roekel McGregor for her distinguished legal career that bestows so much credit upon this institution and this state.