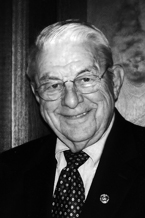 William H. Olin, Sr.
---
William H. Olin has used his professional expertise in orthodontics and his humanitarian drive to positively transform the lives of Iowans and people around the world.
Olin received a D.D.S. degree from Marquette University in Milwaukee, Wisconsin, in 1947 and an M.S. and a Certificate in Orthodontics in 1948 from the University of Iowa College of Dentistry. That same year, he began his career at the University of Iowa Hospitals and Clinics as an assistant professor and also founded the Division of Craniofacial Anomalies.
Over the space of a 44-year career, until his retirement in 1992, Olin achieved international respect for his expertise in this specialty area—and for his caring approach to treating people with facial deformities. During this time, he also served as president of the Johnson County Dental Society, the Midwestern Orthodontic Society, the American Cleft Palate Association, and the Angle Orthodontic Society. Despite such peer recognition for his leadership and skills, Olin says that the most rewarding part of his work is receiving thank-you letters from patients who are once again able to smile.
In retirement, Olin has remained committed to making a difference in hundreds of lives at University Hospitals and Clinics and at state, national, and international levels—traveling to various areas of the world with Operation Smile and a similar charity, Rotaplast, in an effort to correct children's dental, cleft palate, and lip anomalies. He established and still participates in the Greater Iowa City Area Mouth Guard Program, a volunteer effort providing a free service to fit mouth guards for athletes to protect them from injury. He also helped organize and remains active in the Rotary Club's Project MOST (Miles of Smiles Team), a philanthropic effort that takes experts to countries including San Salvador and, for the last four years, to Guatemala.
At age 85, Olin remains vigorously involved in numerous additional service endeavors. Among many initiatives, he helped raise funds to bring an American Cancer Society Hope Lodge to the Iowa City community, and he has been an active participant in the Rotary Club's Fire and Medical Supply Company mission to collect and ship medical equipment to developing nations. Recently appointed to the Iowa City Hope Lodge advisory board, Olin is also deeply involved with the Boy Scout organization.
Olin's considerable efforts have been recognized with two Iowa City Human Rights Commission awards—an Individual in a Service Organization Award in 2004, and an International Award in 2005. In 2007, he received the Ben Franklin Award on National Philanthropy Day from the Association of Fundraising Professionals.
Olin and his family have been UI loyalists for well over half a century. His wife, Bertha, a registered nurse, practiced at UIHC, and his three sons all have earned degrees from the UI, two from the College of Dentistry.
This UI graduate has served his university, his profession, his state, and his world with great dedication, dignity, and passion. The University of Iowa is proud to present William Olin with this Distinguished Alumni Award in recognition of his selfless work.
Olin is a member of the UI Alumni Association's Old Capitol Club.