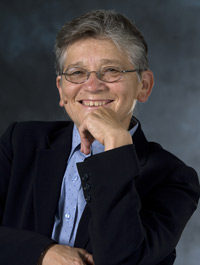 Nancy Barcelo
72MA, 80PhD
Achievement 2010
---
Nancy "Rusty" Barcelˇ, 72MA, 80PhD, is a pioneer for multiculturalism who has literally changed the face of higher education in America.
Throughout an illustrious career in academic administration that spans four decades, including 20 trailblazing years at the University of Iowa, Barcelˇ has championed the idea that equity and diversity are fundamental to the academic enterprise—and that promoting this belief is not just the responsibility of one administrator, program, or office, but of an entire university.
When Barcelˇ arrived at the University of Iowa in 1970, she was the only Chicana graduate student on campus. She soon became involved in opening the UI's first Chicano Latino Native American Cultural Center. Her passionate and impeccable performance in a variety of roles and research assistantships in the UI offices of Affirmative Action, Academic Affairs, and Special Support Service caught the attention of central administration.
The year after earning her Ph.D., she accepted her first full-time UI position as assistant dean in the Office of Academic Affairs. She determined to use this platform as a vehicle toward strengthening the university's embrace of equality and diversity principles. She went on to further climb the leadership ranks, filling roles as the interim director for the Opportunity at Iowa program and as assistant provost.
Even when she finished her "official" work in Jessup Hall, Barcelˇ often devoted evenings or weekends to the cause so close to her heart. With her boundless energy, she would speak at events, sing at rallies, or host activities for first-generation college students.
Barcelˇ's more recent professional contributions have taken place outside Iowa. From 1996 to 2001, she served as associate vice president for multicultural and academic affairs at the University of Minnesota. She then accepted the position of vice president and vice provost for minority affairs and diversity at the University of Washington. In 2006, Minnesota managed to recruit her back to its campus, where she serves as vice president and vice provost for equity and diversity. She recently was appointed president of Northern New Mexico College and will begin her presidency on July 1, 2010.
Respected on a national level for her leadership, courage, and collaborative approach, Barcelˇ has improved diversity at all levels in the institutions where she's worked, instilling a greater understanding of its value amongst faculty, staff, and students. Her efforts have resulted in the acceptance of diversity as a core university value, greater recruitment of multicultural populations, and improved retention and support of underrepresented groups.
In addition to her academic endeavors, Barcelˇ has participated on numerous regional and national boards, spoken at hundreds of conferences and cultural events, and received awards from more than 20 organizations. Her latest honor, the Ohtli Award from the Mexican government, recognizes her work to enhance U.S.-Mexican relations and improve the lives of people of Mexican heritage living in this country.
With warmth, compassion, and humanity, Rusty Barcelˇ has cultivated educational atmospheres that value and affirm difference, benefiting countless individuals as well as the teaching, research, and service missions of universities.
Barcelˇ is a member of the UI Alumni Association's Old Capitol Club.