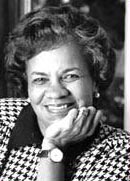 Lois H. Eichacker
---
Lois H. Eichacker, a community activist who has dedicated her career to helping the disadvantaged, has been guided in her efforts, professionally and personally, by a compassion that is profound. From education and employment to affirmative action and healthcare issues, she has had a tremendous impact on the people of Iowa.
Whether as executive director of the Southeast Iowa Community Action Organization, school board member, or volunteer on community projects, Eichacker has advocated for women, children, minorities, and the working poor. Her tireless work to help formulate public policies at the local, state, and regional levels continues to create new opportunities for those unable to fend for themselves.
The first stumbling block to self-sufficiency, Eichacker believes, is lack of education, and her efforts in education have enabled scores of students to improve their desire and capacity to learn. Her contributions include initiating the Creative Learning Center and in-school and out-of-school tutoring in the Fort Madison School District. Eichacker also helped develop a "Survival Skills" course for longtime inmates facing imminent release from Fort Madison's Iowa State Penitentiary. Taught by volunteers, this course covered the essentials inmates need to know to succeed in their transition to noninstitutional living.
A strong proponent of equal opportunity in employment, Eichacker has served on the board of the Iowa Department of Economic Development, the State Job Training Coordinating Council, Investing in People, the Council on Human Investment, the State Planning Council, and the State Community Action Agencies Commission. She developed an Affirmative Action Assessment form still used by the Fort Madison School District to track the district's progress in staffing, salaries, retention, scholarship, and discipline.
The daughter of a doctor who believed that good health care is a fundamental right independent of one's ability to pay, Eichacker has played an active role in healthcare issues. A member of former Governor Terry Branstad's blue-ribbon Long Term Care Task Force, she insisted that Iowa steer away from a tiered healthcare system that would provide fewer benefits to the poor. And, in her work for the board of the Iowa Department of Economic Development, she urged healthcare system changes that would benefit all people of Iowa, especially those who could not advocate for themselves.
As a result of her dedication and the excellence of her work, Eichacker has been honored by many of the organizations and communities she has served. The Neighborhood Center and Head Start classroom site for the Southeast Iowa Community Action Organization in Fort Madison bears her name. She has received the Education Dedicated Individual of the Year Award and the University of Iowa Black Alumni Association Award for dedicated service, and she has been honored as an Outstanding Partner in Community Action for the State of Iowa. In 1994, Eichacker was inducted into the prestigious Iowa Women's Hall of Fame. Her contributions to the UIAA board of directors were recognized in 1994 when she became the first African-American elected as the Association's president. In 1997, Legal Services Corporation of Iowa awarded her its Excellence in Service Award.
Through a commitment to improving opportunities and the quality of life for every individual, regardless of economic status, Eichacker has served her community, state, and nation. Her contributions have been fueled by motives rare among the shapers of public policy: selflessness, compassion, and a desire to help others help themselves.
Eichacker is a member of the UI Alumni Association's Directors Club Honors Circle and the UI Foundation's Presidents Club.