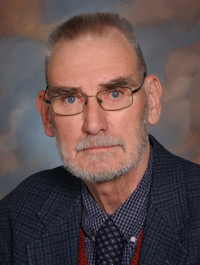 John M. Opitz
56BA, 59MD, 61R
Achievement 2010
---
John M. Opitz is recognized as one of the world's pre-eminent clinical geneticists, an outstanding physician, and a researcher deemed virtually peerless in the realm of clinical genetics.
Born in Hamburg, Germany, Opitz spent most of his childhood there before coming to Iowa City during his high school days. His interest in zoology, evolution, and development began when he was a 15-year-old student working with the late University of Iowa emeritus professor Emil Witschi, an internationally acclaimed embryologist, endocrinologist, and professor of zoology.
Under Professor Witschi's tutelage, Opitz earned his undergraduate zoology degree at the UI in 1956 and was encouraged to continue his formal education here in medicine. He completed a medical degree in 1959 and a pediatrics residency in 1961.
The physician and researcher—who is currently a professor of Pediatrics, Pathology, Human Genetics, and Obstetrics and Gynecology at the University of Utah School of Medicine— has gone on to achieve international stature. One of the first physicians to connect a specific grouping of pediatric anomalies with heredity, he has made landmark contributions to many newly recognized syndromes, several of which bear his name.
Opitz is the founder and continuing (emeritus) editor of the prestigious American Journal of Medical Genetics, which, thanks to his dedication, is the most prominent and respected journal in medical genetics. Through his over 500 papers, many textbook chapters, editorials and book reviews, as well as his ten books, Opitz has described and shared discovery of more syndromes and genetic diseases than any other person. Indeed, he has helped originate a new vocabulary for embryology and genetics.
Opitz's remarkable achievements have been recognized through numerous citations and honors, including honorary degrees from Montana State University and the University of Kiel. In 1987, he was invited to present the Farber lecture, which is the highest honor given by the Society of Pediatric Pathology. Other awards include the Bethesda Award for Research in Mental Retardation, the March of Dimes Lifetime Achievement Award for his dedicated work in genetic science, and the Distinguished Visiting Professor Award of the University of Wisconsin.
Opitz is an elected fellow of the American Association for the Advancement of Science. His international stature is reflected in the fact that he was elected as a foreign honorary member of the Israeli Society of Medical Genetics, the South African Society of Human Genetics, and the Japanese Society of Human Genetics, and, in 1994, he was awarded the Great Seal of the University of Palermo.
Although his research is outstanding, Opitz is just as committed to people. Today, his patients include children who travel to Utah from around the globe to receive his care.
Thanks to his generosity as a mentor, a new generation of pediatric geneticists and young investigators will continue their own pursuit of the most challenging questions in the life sciences, with the goal of advancing treatment for a wide array of human diseases.
In recognition of his life's work dedicated to the advancement of science and humankind, the University of Iowa is proud to honor John M. Opitz as one of its most distinguished alumni.
Opitz is a life member of the UI Alumni Association.