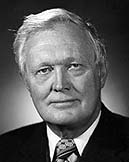 Philip E. Bernatz
42BA, 44MD
Achievement 1998
---
Philip E. Bernatz, 42BA, 44MD, is a retired thoracic and vascular surgeon who served as president of the medical staff at the world-famous Mayo Clinic in Rochester, Minnesota, from 1975 to 1976. Despite numerous professional activities and affiliations and with more than 180 publications to his credit, Bernatz is perhaps most admired for the compassion he exhibited to his patients and the respect he showed to and earned from his colleagues.
After graduating Phi Beta Kappa and Alpha Omega Alpha from the University of Iowa and following military service with the US Navy, he attended the Mayo Graduate School as a surgical fellow and earned his master's degree in surgery. Appointed to the surgical staff at the Mayo Clinic in 1955, Bernatz eventually climbed the academic ladder to full professor, and in 1981, he was named the Stuart Harrington Professor of Surgery.
Throughout his medical career, peers and colleagues recognized Bernatz as an outstanding surgeon, relishing his vast knowledge in patient consultations. One colleague noted that Bernatz "thinks like an internist"—high praise for a surgeon. Much of his medical philosophy was based on his belief in sharing his expertise not only with professional colleagues and students, but also with patients and the public at large. A contributor to a variety of information published by the Mayo Foundation, Bernatz also served on the editorial board of the authoritative Mayo Clinic Family Health Book and Mayo News Letter, comprehensive medical guides designed primarily for the public.
In addition to his contributions to numerous professional publications, Bernatz also participated in a broad range of professional societies. His service as a member of the American Board of Thoracic Surgery—the body that determines guidelines for professional training, program accreditation, candidate examination, and board certification—is indicative of Bernatz's eminence in his field.
But patients and peers alike perhaps most appreciated Bernatz's compassion and the time he dedicated to his patients and their families, explaining treatment choices and their potential outcomes.
Bernatz is a member of the UI Alumni Association's Old Capitol Club.