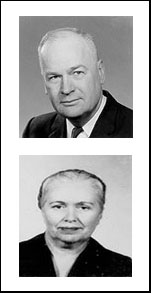 Dewey B. & Velma E. Pottorf Stuit
non-UI grad
Faculty Staff 1998
---
Dewey B. Stuit & Velma E. Pottorf Stuit have exhibited a lifelong commitment to the University of Iowa. It was with great sorrow that the UI Alumni Association learned of Velma's death on November 20, 1997, just weeks after she had been named a recipient of the Faculty/Staff Achievement Award.
Dewey Stuit joined the UI faculty 60 years ago as an associate professor in the psychology department. In 1943, he accepted a commission in the US Navy and served the Bureau of Naval Personnel in Washington, DC, until 1946. While in Washington, Stuit collaborated with Kenneth Spence, head of Iowa's psychology department, to develop a proposal for a student counseling program. UI President Virgil Hancher approved the proposal, and Dewey Stuit returned to the university in 1946 as director of the counseling program and professor of psychology. Despite its humble beginnings, Iowa's Student Counseling Service now employs 11 psychologists, three interns, and numerous practicum students.
Following two years as dean of Student Personnel Services, Dewey Stuit served as dean of the College of Liberal Arts from 1948 to 1977. During his tenure, Stuit led the college through a period of unparalleled growth in faculty, staff, and students. When passions on campus erupted in the turbulent 1960s and 1970s, he worked hard to balance the needs of students and faculty to express their antiwar sentiments with the needs of the university to provide a safe and productive academic atmosphere.
While Dean Stuit handled the affairs of the college, his wife, Velma, opened her heart to the entire UI community, especially to those who were new to the university. A former president of the University Club and cofounder of the Newcomers Club and the International Women's Club, Velma welcomed hundreds of families to Iowa City.
Upon Dean Stuit's retirement in 1977, UI President Willard Boyd established the Dewey B. Stuit Scholarship to honor Dewey's many years of outstanding service. The couple then created the Dewey B. Stuit Award for Honors in 1981, the Dewey B. Stuit Fund for Psychology in 1993, the Velma E. Stuit Scholarship Fund in 1997, and the Dewey B. and Velma P. Stuit Professorship in Psychology in 1997.
The Stuits are annual members of the UI Alumni Association and members of the UI Foundation's Presidents Club.