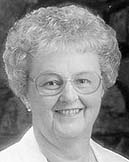 Mary Louise (Reynolds) Remy
---
Mary Louise Remy, 43BSC, has devoted a lifetime of service to furthering educational opportunities for women around the world. For ten years she served as an officer on the executive board of the International Chapter of the P.E.O. Sisterhood, serving a two-year term as its president from 1989 to 1991.
The P.E.O. Sisterhood, whose International headquarters are in Des Moines, is a philanthropic and educational organization founded in 1869 at Iowa Wesleyan College in Mount Pleasant. Since its founding, P.E.O. has assisted more than 52,000 women with scholarships, grants, loans, and awards totaling more than $81,000,000. P.E.O. also owns and operates Cottey College, a two-year liberal arts college for women in Nevada, Missouri. Today more than one-quarter million women are members of P.E.O. in 50 states and provincial chapters and in more than 5,700 local chapters.
Remy has dedicated her time, energy, and organizational skills to leadership positions at every level of the P.E.O. Sisterhood. She served as executive secretary for the California State Chapter for 14 years. Remy then served for six years as a state chapter officer, before she was elected to the executive board of the International Chapter.
As president of the International Chapter, Remy proposed and promoted the acceptance of P.E.O.'s fifth educational project, the Scholar Awards. Established in 1991 and designed to honor women in the US and Canada for their outstanding work and advanced study and research, the Scholar Awards project has honored 640 women with awards of more than $2,700,000. Each year a scholarship is awarded in Remy's name.
Remy also served ten years as a member of both the P.E.O. Foundation Corporation and the Cottey College Corporation. She is currently serving a seven-year term as a trustee of Cottey College, where she is involved with an $8.9 million expansion project to build a new academic center on the campus.
Remy is a member of the Rho Chapter of Gamma Phi Beta sorority and an ordained elder in the Presbyterian Church. In recognition of her many years of service to advancing educational opportunities for women, Remy received an honorary PhD in humane letters from Iowa Wesleyan College in 1992.