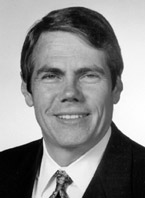 Martin G. Carver
---
Martin G. Carver, 70BA, chairman, president, and CEO of Bandag, Incorporated, has steered his family's Muscatine, Iowa-based company to the forefront of the international tire management industry, while never losing sight of the fact that business is about people.
The youngest son of successful Iowa entrepreneur Roy J. Carver, Martin Carver has employed a highly effective personal approach to managing the company that his father founded. Among other things, he has instituted a corporate culture that motivates Bandag employees and franchisees to work together in teams to accomplish company goals.
An avid motorsports enthusiast, Carver set a world land speed record for diesel trucks in 1988. He was clocked at 151 miles per hour while driving the "Bandag Bandit" truck-equipped with Bandag retreads-at the Bonneville Salt Flats in Utah. Carver did this to demonstrate the quality of Bandag products, which are manufactured using state-of-the-art technology that retreads worn truck tires to maximize their service life.
Bandag's success is proven even off the racetrack. The company achieved Fortune 500 stature in 1991 and 1992. In addition, Carver was named 1986 CEO of the Year in the rubber and plastics industry by Financial World magazine. In 1989, Financial World also honored Carver as the CEO of the Decade in a broader category for the chemicals industry.
Though he is a global business executive, Carver is a true Iowa son at heart. The UI mathematics major has not lost touch with the place that started him on the road to achievement. For more than a decade, Bandag has funded an annual basketball camp for youngsters in Muscatine, and in recognition of this commitment, the University of Iowa Athletics Department designated Carver as an honorary UI men's basketball coach.
Carver also makes time for community involvements that include serving on the board of directors of the National Civility Center, a community-building organization based in Muscatine. He is a member of the Aspen Institute's Society of Fellows, and he has been a director and chairman of the board of Augustana College in Rock Island, Illinois.
A big fan of the University of Iowa, Carver also supports UI athletics and Hancher Auditorium. A member of the Board of Visitors of the Henry B. Tippie College of Business, he also served on the Iowa Endowment 2000 Campaign.
These and other accomplishments clearly demonstrate that Carver has been a driving force for positive change in the business world, in his hometown, and in the University of Iowa community.
Carver is a lifetime member of the University of Iowa Alumni Association and a member of the UI Foundation's Presidents Club.