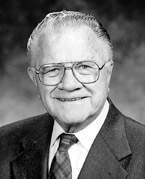 C.F. Barrett
---
C.F. "Larry" Barrett, knows what it means to serve people's needs. For 52 years, this dentist and University of Iowa graduate took pride in providing personalized care and service to patients in his Davenport, Iowa, practice. Even after his retirement in 1996, Barrett has continued to work for others. He has dedicated himself to improving his community, promoting the dental profession, supporting his alma mater, and contributing to both his state and country.
Former Iowa Governor Terry Branstad recognized Barrett for his work on the State Board of Health, on which he served for 21 years. The former U.S. Navy man also served with distinction as a delegate and alternate delegate to the American Dental Association-and has been a member of the Iowa Dental Association for more than 55 years.
Barrett's role as chair of a State Special Committee on Access led to a series of reports and recommendations that remain the foundation for current initiatives to improve oral healthcare for all Iowans, especially children
Work as a practicing dentist-and as a long-time adjunct assistant professor at the UI College of Dentistry-helped prepare Barrett for these state and national positions. In addition, he has always been committed to helping students. For more than 27 years, Barrett participated in the UI College of Dentistry's Preceptorship Program, which gives senior dental students the chance for hands-on learning from practicing professionals.
This is not the only way Barrett has worked to transform students' lives. He and his wife, Lois Krupp Barrett, 44BA, have established scholarships for the UI College of Dentistry and UI Department of Athletics, including the John C. Montgomery and James H. McLeran Pierre Fauchard Education Award and the Dr. C.F. "Larry" and Lois Barrett Football Scholarship.
Barrett's service on the UI Dental Alumni Association Board since 1975 is only a small part of his total community involvement. For 35 years, he has worked for the State Special Olympics as a board member and volunteer, and he received the Outstanding Volunteer Award for 1990. A committed member and past president of the Davenport Quarterback Club, Barrett received the UI's Honorary National Letter Winner award this year.
A fellow of the American College of Dentists, the International College of Dentists, and the Pierre Fauchard Academy, Barrett has received the Iowa Dental Association's Alumnus of the Year, Distinguished Service, and Presidential awards. And, in 1985, Pope John Paul II honored him with the Knight of St. Gregory, which is the highest recognition for a layperson in the Catholic Church.
Throughout more than 60 years of affiliation with the University of Iowa, Barrett has proven himself to be an exemplary alumnus who selflessly gives to others.
Barrett is a life member of the UI Alumni Association and a member of the UI Foundation's Presidents Club.