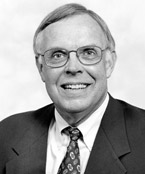 Fred Luthans
61BA, 62MBA, 65PhD
Achievement 2002
---
Fred Luthans, 61BA, 62MBA, 65PhD, has helped revolutionize employee performance the world over. Though he's taught at the University of Nebraska for 35 years, this George Holmes University Distinguished Professor of Management has traveled the globe and published prolifically, sharing his pioneering work with everyone from corporations to institutions of higher education.
The Clinton, Iowa, native has enhanced the field of management by demonstrating a link between employeeproductivity and the approach taken by management and human resources professionals. Luthans has authored nearly a dozen books that not only have transformed the way businesses work, but also have appeared on college and university syllabi across the country.
Some of his most well-known texts include Organizational Behavior (now in its ninth edition); Organizational Behavior Modifications, which won the American Society of Personnel Administration Award for outstanding contribution to human resources management; Real Managers; and International Management. In addition, Luthans has written hundreds of book chapters and journal articles, serves as editor of three academic journals, and has been a McGraw-Hill consulting editor for more than 20 years. He was named to the Academy of Management Hall of Fame for being one of the top five published authors in the Academy's journals.
However, before Luthans was using his research and communication skills to help businesses run better, he was running the track at the University of Iowa, where he competed for the Iowa track team and discovered his love for teaching as a doctoral student. Luthans further honed this passion, as well as his leadership acumen, during a two-year academic position at the U.S. Military Academy at West Point while he was an Army officer.
After more than three decades as a professor and management educator, the UI graduate's commitment to teaching is even stronger-and it shows. In 1997, Luthans received the prestigious National Academy of Management's Distinguished Educator Award, which goes to only one such educator in the world each year.
The breadth and depth of his educating experience extends to the public and private consulting sector as well. This former president of the National Academy of Management has done national and international consulting for organizations such as Deutsche Telekom, U.S. West, Wal-Mart, and Iowa Beef Processors. For the past three years, he has been a senior scientist for Gallup, Inc. He also has worked at home and abroad-in places such as Singapore, Chile, Albania, and Russia-as a distinguished lecturer and workshop leader.
Luthans' extensive research program has earned him international recognition. Whether he is writing, teaching, consulting, or conducting research, this loyal UI graduate-who remains a Hawkeye fan, even in Husker land-is working to make today's workplace a better place for managers and employees alike.
Luthans is a life member of the UI Alumni Association.