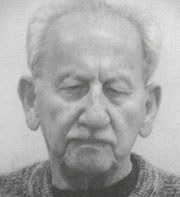 Mauricio Lasansky
non-UI grad
Faculty Staff 2001
---
Mauricio Lasansky, UI Virgil M. Hancher Professor Emeritus of Art and Art History, retired in 1985 from his position as director of a printmaking department that has garnered international respect for more than five decades.
Last years, U.S. News & World Report once again ranked the graduate printmaking department in the School of Art and Art History as number one in the country, but, long before anyone was publishing rankings of graduate programs, Iowas printmaking department was the acknowledged national leader. Outstanding student artists throughout the world sought the opportunity to come to the UI to become part of what was once called the Iowa Print Group. The reason was Lasansky — an inspired artist who has won more than 200 awards from around the world, and an exciting teacher who has drawn thousands of students from all over the map to his classroom.
The son of a banknote engraver, Lasansky came to the United States from Argentina in 1943 because of his love for the art print. He spent the World War II years in New York City on Guggenheim fellowships, studying the entire print collection of the Metropolitan Museum of Art and working alongside artists of the international avant-garde. In 1945, Lester Longman, then director of the UI School of Art and Art History, and UI President Virgil Hancher convinced Lasanky to move to Iowa City and create a graphic arts department.
Lasansky promised to make Iowas print shop the best in the country. By 1949, one of Lasanskys students had won his own Guggenheim, several others had received Fulbright fellowships, and some even had prints hanging on Chicago gallery walls. By the early 1950s, Lasanky had turned Iowas print shop into a germinal school. His student were going out and starting print departments of their own everywhere from UCLA to the universities of Texas, Minnesota, Kansas, and Illinois, as well as Tulane, Michigan State, and the Cleveland Institute of Art, among many others.
Lasansky also helped found the UI Museum of Art, first as it developed inside the School of Art and Art History, and again when he urged UI administrators to build a freestanding museum in 1969. The UI Museum of Art owes much of its present-day collection to the efforts of Lasansky to encourage collectors to become major donors of art and funds to the museum. When Roy J. Carver made one of his first gifts to the UI Foundation in 1974, some of those funds financed the construction of a Museum of Art wing that houses a retrospective of Lasanskys work, including his Nazi Drawings, the artists provocative indictment of the Nazi Holocaust.
Lasansky is the recipient of the 1999 Iowa Award, the states highest citizen award, and he is a member of the UI Foundations President Club.