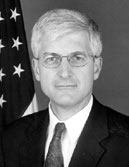 Alan P. Larson
71BA, 78MA, 82PhD
Achievement 2003
---
Alan Larson, 71BA, 78MA, 82PhD, will mark 30 years of distinguished and extraordinary service to the United States this year. As Under Secretary of State for Economic, Business and Agricultural Affairs, he is the senior economic advisor to Secretary of State Colin Powell, and his responsibilities include the entire range of international economic policy.
Larson's impressive academic career at the University of Iowa includes earning a B.A. degree in political science and M.A. and Ph.D. degrees in economics. Along the way, he studied at Johns Hopkins School of Advanced International Studies.
Larson joined the U.S. Department of State in 1973 as a Foreign Service officer and began his career as economic officer in the American Embassy in Sierra Leone from 1973 to 1975 and in Zaire from 1975 to 1977. Since then, he has earned international respect as an advocate for sound international economic policy. Among other assignments, he has served as U.S. ambassador to the Organization for Economic Cooperation and Development, led efforts at the Denver Group of Eight Summit in 1996, and provided advice during the Asian economic crisis.
When he was appointed to his current position as Under Secretary by President Clinton in 1999, he became the first career Foreign Service officer to hold this high office. Larson was further distinguished by being reappointed by President George W. Bush in 2001, thereby becoming the only individual in this role to be supported by both Democratic and Republican administrations. This recognition by both of America's leading political parties is perhaps the greatest testament to his expertise and skill as a leader and negotiator.
In his current position, Larson has represented the United States in the highest level negotiations on key international issues, from agricultural trade and the constructive use of biotechnology as a tool to fight world hunger, to energy security.
During the challenging days since September 11, 2001, Larson has been at the forefront of U.S. dealings with the Group of Eight industrialized countries in encouraging concerted efforts to thwart terrorism and the global financial structure that supports terrorist organizations. His non-confrontational diplomatic style and skill at bringing intellectual adversaries closer to agreement are put to excellent use in this position.
Even as he has pursued this demanding career, Larson has been an exemplary parent and family man. His wife, Nancy Naden Larson, 71BA, who graduated from the University of Iowa with a degree in elementary education, and their three children traveled with him to overseas assignments in Sierra Leone, Zaire, Jamaica, and France.
While Larson's career has taken him to the far reaches of the world, he and Nancy remain connected to the state of Iowa and the UI.
Larson's achievements exemplify the best of what an Iowa education has to offer, as well as the best that our nation has to offer the world.
Larson is a life member of the UI Alumni Association.