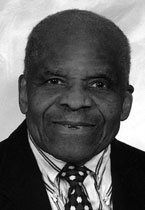 Luther H. Smith
---
Luther H. Smith, 50BSME, has fought for racial equality in the skies of war-torn Europe and in his peacetime career in America.
As a young boy, Smith dreamed of becoming a pilot—at a time when few blacks had managed to breach the color barrier and enter the field of aviation. So, in 1938, Smith enrolled at the University of Iowa to study engineering, hoping to join the ranks of the countrys military pilots. Two years into his studies, World War II began. Rather than integrate troops, the government formed all-black military units, including the much-lauded Tuskegee Airmen, which Smith joined in 1942.
Between July 1944 and May 1945, the famed troop flew 200 escort missions over nine European countries without the loss of a single bomber to enemy aircraft—a feat that remains an astonishing achievement.
Based in Italy, Captain Smith flew 133 missions and is credited with destroying two enemy aircraft. On his final mission in October 1944, his plane was hit over Yugoslavia. Against all odds, Smith managed to free himself from his burning aircraft and open his parachute—although he sustained severe injuries to his hip and foot.
Smith was captured by German soldiers and endured two years in hospital and prison camps. By the time Allied soldiers liberated him in May 1945, he weighed just 70 pounds. Back in the U.S., he spent another two years in the hospital before being released, his injured leg seven inches shorter than the other. His flying career over, Smith retired at the age of 27 as a captain and a war hero.
Smith then returned to the UI and completed a degree in mechanical engineering in 1950, going on, despite continuing racism, to a long and successful career as an aerospace engineer with General Electric. In the years until his retirement in 1988, he published numerous papers, was awarded two patents, and was frequently called upon by the Department of Defense and defense-related agencies for special assignments. He earned an M.E. degree from Pennsylvania State University in 1977.
Smith represented the U.S. Army Air Corps as one of seven WWII veterans selected by President Clinton to attend the 50th anniversary V-E celebration trip to the United Kingdom, the Czech Republic, and Russia. He also served on the evaluation board that selected the WWII memorial on the Mall in Washington, DC, and was instrumental in the establishment of a memorial to the Tuskegee Airmen.
A member of the Iowa Aviation Hall of Fame, Smith has received countless honors for his service to his country and for his success in the field of engineering: the Distinguished Flying Cross, the Air Medal with six Oak Leaf Clusters, a Purple Heart, European and Mediterranean Theaters Campaign Ribbons, a Prisoner of War Medal, the Franklin W. Kolk Aerospace Industry Award from the Society of Automotive Engineers, and election to the UI Distinguished Engineering Alumni Academy.
Now, the University of Iowa is proud to add another medal to that collection. This Distinguished Alumni Award recognizes Luther Smiths courageous wartime service, his outstanding career, and his significant contributions to racial equality in this country.