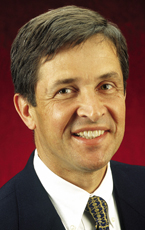 Gary J. Streit
---
Gary J. Streit, 75JD, is recognized as one of the best taxation and employee benefits lawyers in America, but perhaps his most rewarding and inspirational service takes place outside his profession.
For three decades, the native of Sibley, Iowa, has dedicated his time and energy to numerous nonprofit organizations, perhaps most significantly in helping the American Cancer Society (ACS) prevent cancer, save lives, and diminish suffering.
Since earning a B.S. degree in industrial administration from Iowa State University in 1972 and his J.D. from the University of Iowa in 1975, Streit has enjoyed a successful career as an attorney at Shuttleworth & Ingersoll in Cedar Rapids, where he has served since 2002 as president of the firm. For the past 16 years, Streit has been listed in the Best Lawyers in America, and he is a fellow of the American College of Trust and Estate Counsel, an honor extended only to the countrys most accomplished trust and estate lawyers.
Even as he has achieved three decades of dedicated service to the law profession, Streit has contributed to the betterment of humanity through his work for the American Cancer Society. He has selflessly served at the local, regional, state, and national levels on ACS committees almost too numerous to count—including as president of the Iowa Division of ACS, the first president of the societys Midwest Division, and chair or vice-chair of many national committees and workgroups. He also founded the societys sister advocacy organization, the American Cancer Society Cancer Action Network.
Streit has been a member of the ACS national assembly since 1991 and a member of the national board of directors since 1998. After being elected chair of the latter organization in 2003, he put his remarkable leadership skills and energy to good use on the national and international level, leading an ACS delegation to China in 2004.
Streit has been recognized through numerous awards for his volunteer efforts, including the Community Service Award from the Iowa State Bar Association, a Citation of Achievement from the Iowa State University College of Business, the ACS Outstanding Division Volunteer Award in 1989, and the ACSs Saint George Medal in 1992.
Streit also willingly commits his considerable energy and expertise to many other charitable and civic organizations, as well as the University of Iowa. He has served as a prolific volunteer lecturer at UI College of Law continuing legal education seminars (having made presentations at 19 programs), and he has helped arrange funding from his law firm to host a cookout before a football game each year for several hundred alumni and friends of the UI College of Law.
A friend who notes Streits integrity, energy, and compassion says that this distinguished alumnuss middle name could well be Service. Indeed, as a volunteer and leader, Gary J. Streit truly exemplifies the University of Iowas ethos of service to others.
Streit is a life member of the UI Alumni Association and an associate member of the UI Presidents Club.