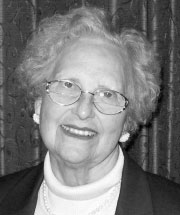 Anita L. Hockett Wildman
---
Anita L. Hockett Wildman, 54GN, is driven by the belief that everyone deserves access to quality health care, a passion that has marked her achievements both in her career and her retirement.
Hockett enrolled in the University of Iowa's nursing program and received her degree in 1954, then joining the UI Hospitals and Clinics staff as an orthopedic and operating room nurse. In 1964, she and her family moved to Saint Charles, Missouri, where she eventually accepted a position with the Saint Joseph Health Center.
Under Hockett's guidance as a nurse manager (pediatrics and orthopedics), the center's nursing department earned "Magnet" recognition for excellence in 1972. Always a woman ahead of her time, Hockett was among the first administrators to help teach her colleagues how to use computers in the clinical area. She also developed a community initiative called "Buckle Up," an innovative program that encouraged and increased seat belt usage for childrenā¬a relatively uncommon practice in the mid-1970s.
Hockett remained at Saint Joseph until her retirement in 1995, then immediately embarked on her notable volunteer career. In 1996, she helped establish the Saint Charles Volunteers in Medicine free clinic and has served as its clinical director ever since. As one of the primary fund-raisers, Hockett tirelessly pursues donations and volunteer staff to ensure the clinic's smooth operation. Today, Volunteers in Medicine treats more than 450 patients per month, providing an estimated $2 million in medical care on a shoestring budget. With her drive and enthusiasm, Hockett has inspired dozens of healthcare professionals to join the cause and provide care to uninsured people who cannot afford it.
Says Martin Bergmann, medical director of Volunteers in Medicine: "I have never had a more dedicated, intelligent, and hardworking co-worker than Anita. For her, this is not a hobby."
Indeed, anyone who has worked with her characterizes Hockett as a visionary with a natural ability to translate knowledge and creative ideas into action. Her dedication has attracted the attention of the White House, and she regularly lends her expertise to state and national legislators as they consider the role of free clinics in healthcare reform. Such efforts have helped establish a million-dollar Legal Defense Fund for physicians and dentists who see patients free of charge. With her eyes to the future, Hockett also sponsors a scholarship for UI students. The Anita and Franklin Hockett Nursing Scholarship supports a student interested in pursuing employment or volunteer work that serves the uninsured.
Among her many honors and awards, Hockett has been recognized by Missouri's Crider Center for Mental Health as one of the 2010 "Heroes in Health Care" in a three-county area. She has also received the 2009 Lifetime Distinguished Service Humanitarian Award from the Saint Charles Chamber of Commerce and a 2008 Lifetime Achievement Award presented at the Sixth Annual Dove Awards for Women of Achievement in Saint Charles County, Missouri. In 2003, she received the Greater St. Louis Woman of Achievement for Health Care Leadership Award.
For her heartfelt contributions and unwavering moral values, Anita Hockett is the embodiment of the proud tradition of the Iowa nurse and a shining example of public service.
Hockett is a life member of the UI Alumni Association and a member of the UI Foundation's Presidents Club.