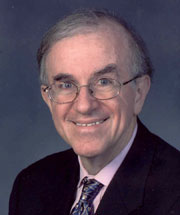 Lawrence H. Einhorn
---
Lawrence H. Einhorn, 67MD, a living legend in the field of medical oncology, developed a cure for testicular cancer and is now applying his expertise to the treatment of other deadly cancers.
A 1965 graduate of Indiana University (IU), Einhorn came to the University of Iowa for medical school and went on to complete his fellowship training in oncology at MD Anderson Hospital in Houston and at the IU School of Medicine.
When he joined IU as a faculty member in 1973, testicular cancer was the leading cause of cancer death among men between the ages of 15 to 35. Einhorn's unprecedented achievement—adding the experimental, platinum-based drug Cisplatin to the chemotherapy regime—turned the research world upside down and forever altered this reality. Today, 95 percent of patients with testicular cancer can be cured, just like Einhorn's most famous patient—Tour de France champion Lance Armstrong.
His incredible discovery—which still remains the only cure discovered for a solid tumor—earned Einhorn international recognition and also ensured his meteoric rise in the world of oncology. He assumed the title of distinguished professor at IU in 1987, the highest rank bestowed upon Indiana faculty, and became the first Lance Armstrong Foundation Professor of Medicine in 1996.
Einhorn has followed his groundbreaking research with continued innovations, heading up the country's pre-eminent germ-cell tumor treatment program at IU. He's also assembling a multidisciplinary team of researchers to explore the ways in which platinum-based drugs might help treat lung cancer, the leading cause of cancer death in men and women.
Among his numerous awards and honors, Einhorn received the American Cancer Society Medal of Honor in 1983. In 1985, he joined the elite Association of American Physicians, and, in 2001, he became the first clinical investigator to be inducted into the National Academy of Sciences.
The Milken Foundation awarded him its Distinguished Clinician Award in 1989, and Einhorn received the Kettering Prize for cancer research from the General Motors Foundation in 1992. Einhorn also received the prestigious David A. Karnofsky Memorial Award in 2000 and the Ted Couch Cancer Research Award from the Moffitt Cancer Center in 2010. He is the recipient of distinguished alumni awards from the Roy J. and Lucille A. Carver College of Medicine and Indiana University, and he served as president of the American Society of Clinical Oncology from 2000 to 2001.
The world-renowned scholar and scientist also has been a named or keynote speaker at dozens of national and international conferences, has published more than 450 papers and 75 book chapters, and remains a dedicated clinician and teacher.
"Larry's accomplishments did not stem from being simply in the right place at the right time," says J. Howard Pratt, professor of medicine at Indiana University. "It took a pioneering spirit, lots of fire in the belly, lots of hard work, and being smart and creative."
A father of modern-day oncology, Lawrence H. Einhorn has changed how doctors treat many cancers. He is not only a guiding light to an entire generation of cancer researchers, but a hero to legions of grateful patients.