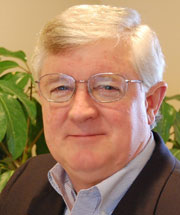 George D. Kuh
---
George D. Kuh, 75PhD, has made far-reaching contributions to the "science and art" of learning by creating a widely influential method for documenting and strengthening student achievement in American higher education.
This prolific scholar and researcher created the innovative National Survey of Student Engagement (NSSE), which annually collects information from students at hundreds of four-year colleges and universities about their participation in learning and personal development programs and activities. The results have proven crucial to helping faculty and administrators across the country identify and apply practices that enable students to learn best.
Now chancellor's professor emeritus at Indiana University (IU), Kuh graduated from Luther College in Decorah, Iowa, with a bachelor's degree in English and history in 1968. He then worked at Luther as an admissions officer from 1968 to 1972 while earning a master's degree in counseling from St. Cloud State University. In 1975, he completed a doctoral degree in counselor education at the University of Iowa.
After teaching at the UI for a year, Kuh joined the Indiana University School of Education faculty in 1976. There, he spent more than a decade as director of IU's Center for Postsecondary Research, during which time he developed the highly influential survey that has been used by more than 1,400 colleges in the United States and Canada. Thousands of faculty members and administrators, and millions of students, have benefited from his work with the NSSE.
In addition to his leadership role with the NSSE, Kuh served in a variety of faculty and administrative roles at IU, including as chair of the Department of Educational Leadership and Policy Studies, associate dean for academic affairs in the School of Education, and associate dean of the faculties for the Bloomington campus.
He currently directs two national projects: the National Institute for Learning Outcomes Assessment and the Strategic National Arts Alumni Project, which is the first in-depth exploration of the factors that influence the careers of graduates of arts-intensive training high schools and postsecondary institutions.
With more than 350 publications, Kuh is also a sought-after consultant and lecturer who has made several hundred presentations on topics related to institutional improvement, college-student engagement, assessment strategies, and campus cultures. He holds seven honorary degrees, including one from Luther College, where he is a member of the Board of Regents and where his colleagues attest that he "has deeply altered the way we think about undergraduate learning."
For his achievements, Kuh has received many honors, including the American College Personnel Association's award for Outstanding Contribution to Higher Education in 2010; a Distinguished Alumni Award from St. Cloud State University in 2008; the Virginia B. Smith Innovative Leadership Award from the National Center for Public Policy in Higher Education and Council for Adult and Experiential Learning in 2005; and the Tracy Sonneborn Award for Distinguished Teaching and Research from Indiana University in 2001. In 2011, the National Association of Student Personnel Administrators named its Outstanding Contribution to Knowledge and Literature Award after him.
Through his pioneering research and creative insights, George D. Kuh has, in the words of one nominator, "changed the landscape of American higher education for the better."
Kuh is a life member of the UI Alumni Association.