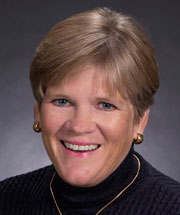 Marion L. Elmquist
---
Marion L. Elmquist, 72BA, knows all about selfless acts of service, and she has used her civic-minded expertise to guide the University of Iowa in creating new opportunities for students, faculty, alumni, and friends.
The retired business executive and former editor has put her leadership skills and business acumen to work as a charter member of the UI College of Liberal Arts and Sciences (CLAS) Dean's Advisory Board, a CLAS representative on the UI Alumni Association (UIAA) Board of Directors, and a member of the UIAA Executive Committee. Through these roles, Elmquist has been able give back to the alma mater that helped shape her rewarding professional life.
Upon earning a bachelor's degree in journalism and mass communications at Iowa, Elmquist went on to complete a 1975 master's degree in journalism and a 1985 master's of business administration degree from Northwestern University.
These educational experiences prepared her to tackle executive editorial roles with Advertising Age and Modern Healthcare magazines—and also to excel in positions in advertising, marketing, and business. Elmquist also started her own marketing and advertising firm, Newton Associates, before moving on to play an instrumental role in growing IRIS/Interactive Horizons from start-up to success. She joined this Denver-based supplier and manufacturer of interactive audience-response systems in 1989 and became its chief operating officer in 1991, remaining in this role until her retirement in 2004.
Despite the demands of her busy professional life, Elmquist has still found time to serve as a steadfast civic volunteer and UI champion—giving many years of dependable and enthusiastic service to her various university boards and committees. Says Linda Maxson, dean of the UI College of Liberal Arts and Sciences: "Marion has been an insightful, generous, and dedicated volunteer for the University of Iowa and CLAS. Beyond these roles, she has been an invaluable partner in cultivating private support; she has a keen understanding of the crucial role that private gifts play in our mission."
Not only is Elmquist attuned to Iowa's needs, but she also is an enthusiastic advocate for Ski for Light—another cause close to her heart. This innovative, Minnesota-based nonprofit program helps visually or mobility-impaired adults enhance their independence and quality of life through cross-country skiing. Elmquist has served in numerous roles within Ski for Light and currently is its president, proving to be a driving force behind the organization's positive and rewarding impact on thousands of lives. In recognition for her outstanding work with this organization, the Norwegian ambassador to the United States honored her with a 2010 Ambassador's Award.
In their years of working alongside her, appreciative colleagues report that Elmquist always asks what she can do to help. It is this generosity of spirit that has earned Marion L. Elmquist a reputation as a trusted alumni advisor and as a charitable and visionary University of Iowa volunteer.
Elmquist is a member of the UI Alumni Association's Old Capitol Club and the UI Foundation's Presidents Club.