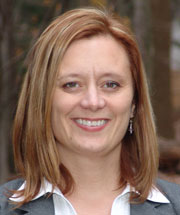 Laura E. Beane Freeman
---
Laura E. Beane Freeman, 99MS, 03PhD, is a young researcher and scholar whose highly lauded work at the National Cancer Institute has placed her among the nation's premier experts on the occupational causes of cancer.
In fact, her groundbreaking investigation of chemicals that may pose a cancer risk already is influencing international research and policy on pesticide use.
Beane Freeman began this stellar career at Iowa, where she finished a master's degree in preventive medicine in 1999 and a Ph.D. degree in epidemiology in 2003. While at the UI, she became the first scientist in the world to report an association between arsenic and skin melanoma. She also worked as a graduate research assistant for the Breast and Cervical Cancer Early Detection Program and was the director of the Epidemiology Student Association.
These leadership activities earned her the Milford Barnes Award for the Outstanding Student in Epidemiology, given to a UI student who demonstrates exceptionally high performance in academics and who contributes to the department, the college, and the community through service and leadership.
Following her Iowa graduation, Beane Freeman joined the National Cancer Institute (NCI) as a fellow in the Division of Cancer Prevention. Her research has included evaluations of the cancer risk associated with contaminants in water supplies, a study of malignancies among workers in the formaldehyde industries, and an assessment of the carcinogenicity of many widely used pesticides.
She also works with colleagues from the University of Iowa in her ongoing role as co-principal investigator on the Agricultural Health Study. This study—a collaborative effort among the National Institute of Environmental Health Sciences, the NCI, the Environmental Protection Agency, and the National Institute for Occupational Safety and Health—is examining health outcomes among 57,000 licensed pesticide applicators and 32,000 of their spouses from Iowa and North Carolina. Ultimately, the project will provide information these agricultural workers can use to make decisions about their health and the health of their families.
Beane Freeman's outstanding performance on such research projects resulted in her promotion to research fellow in 2006—and in 2009 to tenure-track investigator in the NCI's Occupational and Environmental Epidemiology Branch, where she remains today.
Colleague Michael Alavanja wrote of Beane Freeman, "This rapid rise is testament to the fact that Dr. Beane Freeman is very highly regarded at NCI as a young scientist of tremendous potential. She has proven to be a skilled data analyst, a talented study designer, and a prolific scientific writer."
In recognition of such achievements, Beane Freeman has received two NCI Fellows' Awards for Research Excellence; a National Institutes of Health Merit Award; the National Institutes of Health Plain Language/Clear Communication Gold Level Award; membership in Delta Omega Honorary Society in Public Health; and the University of Iowa College of Public Health Outstanding Up and Coming Alumni Award. She also is an author of over 60 papers published or in press, has presented at several national meetings, served on national and international committees, and mentored many students and scientists.
Laura Beane Freeman truly has reached outstanding scientific heights in a mere nine years since her UI graduation, and she is a beacon for other UI graduates on the fast track to changing the world.