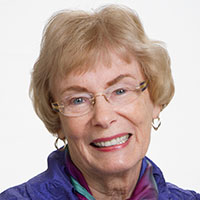 Sally Mathis Hartwig
---
Sally Mathis Hartwig, 75BSN, 77MA, longtime director of nursing at the University of Iowa Hospitals and Clinics, heightened UI nursing's reputation for excellence with her dedication to professional education and patient care.
After graduating with two UI degrees, Mathis Hartwig quickly began her 14-year run at the helm of UIHC nursing. The hospital's director emeritus John Colloton, 57MA, says she showed "exemplary qualities of leadership, professional achievements, and impeccable character" while guiding a 2,000-member staff through an unprecedented time of nursing shortages, increased responsibilities and demands on nurses, and breakthroughs in medical knowledge and technology.
During her tenure, UI Hospitals and Clinics became one of the nation's first hospitals to hire a nurse researcher in the clinical setting and began formal collaboration with the UI College of Nursing. The acclaimed partnership integrated the organizations to advance evidence-based nursing practice and the care patients receive.
Mathis Hartwig also launched revolutionary initiatives—including tuition reimbursement and mentorship programs—to help nurses further their education and rise to leadership. UIHC soon earned national attention for its ability to retain staff nurses.
"I was born to be a nurse. With my education and experience, I do what I can to teach and assist others as long as I am able."
Most notably, Mathis Hartwig developed a shared governance model to the hospital that became the foundation for the prestigious Magnet designations the UIHC achieved in 2004, 2008, and 2013. Says Ann Williamson, former UI Health Care associate vice president for nursing, "Because of Sally's leadership, our hospital is a beacon for nursing excellence."
To celebrate Mathis Hartwig's achievements, her colleagues established a nursing education and advancement fund, and an endowed professorship in gerontological nursing research in her honor. Mathis Hartwig also funds UI scholarships awarded to practicing UIHC nurses, and, in 1999, received one of the first UI College of Nursing Distinguished Alumni Service Awards.
Despite her retirement in 1995, Mathis Hartwig remains actively engaged in the community. The Dayton, Iowa, native acted as a UIHC interim associate director, as well as a member of the board of directors for the Oaknoll retirement residence in Iowa City, the Visiting Nurse Association of Johnson County, and the Home Life Health Care Organization. Mathis Hartwig also served five years on the Iowa Board of Nursing Home Examiners and has logged more than 1,500 hours of service as a UIHC volunteer. In 2012, the local Sertoma club recognized her with the Service to Mankind Award.
"To me, success means acting in a way that benefits others," says Mathis Hartwig. "I was born to be a nurse, and, with my education and experience, I do what I can to teach and assist others as long as I am able."
Without doubt, Sally Mathis Hartwig achieved success in guiding the UIHC's most comprehensive and critically important patient care service through a period of growth and national recognition.
Mathis Hartwig is a life member of the UI Alumni Association and a member of the UI Foundation's Presidents Club.
Career Highlights
Director of nursing, UIHC, 1979-88
Associate director and director of nursing, UIHC, 1988-93
Associate director, UIHC, 1993-95
Interim associate director, UIHC for Nursing and Patient Care Services, 1998