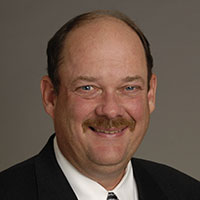 Tom Kloet
---
Tom Kloet, 80BBA, a key innovator of the global stock exchange, has helped steer the financial services industry through technological advances and tumultuous times. Over the course of a distinguished international business career spanning three decades, Kloet has been at the forefront of changes that have brought growth, corporate responsibility, and personal accountability to the world's financial systems.
Kloet graduated from the University of Iowa in 1980 with a business degree in accounting. In 1995, he joined the board of the Chicago Mercantile Exchange (CME), where he was instrumental in transforming the company from a member-owned organization into the world's leading and most diverse derivatives marketplace. Kloet's stalwart leadership positioned CME to become the first U.S. exchange to go public in 2002. He later served for three years as founding CEO and executive director of the Singapore Exchange, converting it from a mutual utility into the second exchange in the Asia-Pacific to become a publicly owned commercial entity.
"Being a University of Iowa alum means ... that I am part of a network of global leaders across many fields who are making a difference in the world today."
In 2008, Kloet assumed leadership of the TMX Group, which operates the Toronto, Montreal, and other major stock exchanges, and became vice chairman of the World Federation of Exchanges. His calm and ethical leadership brought these organizations stability in the wake of the 2008 financial crisis and subsequent industry regulations. Although Kloet retired from both positions in fall 2014, he continues to offer his vast knowledge and experience of financial services as a member of the Nasdaq/OMX board of directors. Kloet also lends his expertise to the community, serving as a trustee for Edward-Elmhurst Healthcare and Elmhurst College in the Chicago area. Says World Federation of Exchanges chairman Andreas Preuss, "I have learned to greatly appreciate Tom for his professional expertise, his managerial quality, and, last but not least, his personal integrity."
A devoted alumnus of the University of Iowa, Kloet has contributed to the Tippie College of Business advisory board since 2010, often returning to campus as a guest speaker and philanthropist for the place he credits with fostering his intellectual curiosity and love of learning. Kloet says, "To have the institution that played such an important role in forming who I am today recognize me for achievement is very meaningful indeed. Being a University of Iowa alum means that I have not only a technical proficiency gathered from committed and skilled faculty, but also that I am part of a network of global leaders across many fields who are making a difference in the world today."
Tom Kloet has indeed helped shape the world, both as a pioneer in the financial services industry and through his dedication to training the next generation of business leaders.
Kloet is an annual member of the UI Alumni Association and a member of the UI Foundation's Presidents Club.
Career Highlights
Chicago Mercantile Exchange board member, treasurer, and clearing chairman, 1995-2000
ABN AMRO investment bank senior managing director and chief administrative officer, 1997-2000
Singapore Exchange Limited chief executive officer, 2000-03
Fimat America senior executive vice president and chief operating officer, New York City, 2003-08
TMX Group Limited chief executive officer, Toronto, Ontario, 2008-14
Inducted into the Futures Industry Hall of Fame in March 2015