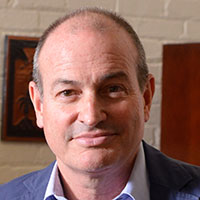 Jay Sieleman
---
Jay Sieleman, 75BA, 78JD, is credited with skillfully and almost single-handedly saving the Memphis-based Blues Foundation, and, in the process, reviving blues music itself—an art form at the heart of the nation's cultural heritage.
Thanks to his tireless leadership, the once-flailing Blues Foundation is now the largest and most renowned blues organization in the world. Since arriving there in 2003, Sieleman has grown the foundation's net worth by millions and tripled membership to 4,500 individuals, plus 200 affiliated blues societies representing another 50,000 fans around the globe.
"Blues takes away the blues. The university honors blues music when it honors me."
Sieleman grew up in Oelwein, Iowa, around a music-loving family. A free spirit of the 1960s, he initially had no plans to attend college, but eventually enrolled at the University of Iowa in 1973. At the UI, Sieleman developed the critical thinking skills, work ethic, and professionalism that prepared him for a law career that took him from Polk County, Iowa, to Panama.
While working as an attorney for the Panama Canal Commission, Sieleman began serving as a volunteer nonprofit law advisor to the Blues Foundation. He'd also ignited a passion for blues and had become familiar with the organization's mission to preserve the music, celebrate recording and performance excellence, support blues education, and strengthen the future of a music profoundly important to American history. But he soon discovered financial and administrative mismanagement had left the foundation teetering on the edge of bankruptcy and irrelevancy. Blues Foundation board members noted Sieleman's dedication and knowledge and invited him to join the staff permanently, hoping he could make a difference.
"The blues is played by incredibly talented musicians who are very giving people and engaged with their fans," says Sieleman, now the foundation's president and CEO, who has thrilled at working with his musical heroes over the years. "Blues takes away the blues. The university honors blues music when it honors me."
Among Sieleman's achievements at the Blues Foundation, he reinvigorated the highly visible Blues Music Awards and the International Blues Challenge performance programs. He also developed initiatives to extend community outreach, provide medical and health support to musicians, and grant educational and scholarship opportunities for the next generation of blues players. Says Rock and Roll Hall of Famer Dion DiMucci, "It would have been easy for Jay to maintain an organization that was essentially a fan club…an echo chamber or a perpetual nostalgia trip. Now, thanks to Jay, the blues has assumed its rightful place as an ambassador for American music."
This past May, Sieleman attended the grand opening of a capstone project—the $3 million, 12,000-square-foot Blues Hall of Fame in downtown Memphis. When he steps down from his post in September, Jay Sieleman can take pride in knowing he's left behind a legacy of attention and recognition for the blues.
Sieleman is a life member of the UI Alumni Association.
Career Highlights
Assistant county attorney and the state's first full-time juvenile prosecutor, Polk County Attorney's Office, Des Moines, 1978-1982
Provincial legal advisor, Peace Corps, Solomon Islands, South Pacific, 1983-85
Assistant regional attorney, U.S. Department of Health and Human Services, Atlanta, 1986-87
Assistant general counsel for the Panama Canal Commission, 1987-2000
Blues Foundation advisory board volunteer, 1999-2003
Director of administration, Blues Foundation, 2003-05
Executive director, Blues Foundation, 2005-12
President and chief executive officer, Blues Foundation, 2012-present