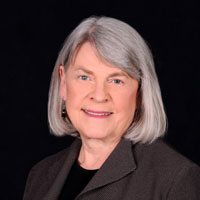 Mary A. Anderson Blegen
75MA, 87PhD
Achievement 2016
---
Mary A. Anderson Blegen, 75MA, 87PhD, is an internationally known nurse scientist and educator who has helped transform patient care in hospital settings.
Throughout her distinguished career, Blegen earned a reputation as an inspiring mentor for other academics—and as a forward-thinking researcher in nursing quality, safety, and workforce studies.
Her focus on hospital safety predated the publication of the Institute of Medicine's landmark 2000 study, To Err is Human: Building a Safer Health System. "She was definitely ahead of the curve," says Rita Frantz, dean of the University of Iowa College of Nursing. "This is truly indicative of the innovative thinking and exemplary abilities that Dr. Blegen has consistently demonstrated."
An adjunct professor at the University of Colorado Health Sciences Center's School of Nursing, a professor emerita of the University of California School of Nursing in San Francisco, and a fellow of the American Academy of Nursing, Blegen has a deep understanding of the role that clinical nurses play in ensuring positive patient outcomes.
"This is truly indicative of the innovative thinking and exemplary abilities that Dr. Blegen has consistently demonstrated."
After earning a B.A. degree in nursing from Augustana College and two UI degrees—a master's in nursing and a doctorate in sociology—Blegen launched a comprehensive research program that still guides the efforts of hospitals across the country. Her research, which focuses on nurse staffing, working conditions, safety climate, and interdisciplinary teamwork, uses patient outcomes to determine the effectiveness of health care processes.
She began this important work during her years as a professor in the UI College of Nursing, where she served as assistant professor, associate professor, chair of theory and health promotion, and associate dean for academic affairs, before accepting a position at the University of Colorado.
Blegen has received more than $10 million in research funding, and she is a prolific author, with more than 100 publications to her credit. For several decades, her paper, Meta-Analysis on Nurse Job Satisfaction, was the 15th-most cited in both national and international nursing journals, and another of her publications, Nurse Staffing and Patient Outcomes, was the 22nd-most cited.
In addition, Blegen has been a member of the editorial board for Nursing Research, the profession's most prestigious research journal, and has lectured internationally—even serving as a visiting professor at the Institute for Nursing Science at the University of Basel in Switzerland. She's received numerous awards, including the UI Collegiate Teaching Award and the Nurse Researcher Award from the American Organization of Nurse Executives. She's also a leader for several health care organizations, including the Research Advisory Council for the Patient Outcomes Research Institute.
Blegen credits such achievements to her outstanding UI education. "I still remember walking across the UI campus and realizing that I was at a really great university," she says. "Neither of my parents even had the opportunity to finish high school. For me to go to college, and then graduate school, was a magnificent gift."
Without doubt, such gifts helped Mary A. Anderson Blegen save patients' lives and make groundbreaking strides to improve care in hospital settings.