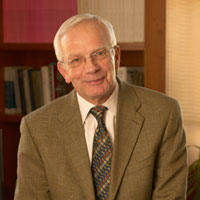 Gary Fethke
64BA, 68PhD
Faculty/Staff 2016
---
Gary Fethke, 64BA, 68PhD, is a longstanding University of Iowa leader whose passion for excellence, commitment to business education, and steadfast loyalty transformed the Henry B. Tippie College of Business and wider university community.
Throughout his tenure at Iowa, Fethke held several positions, including faculty member, senior associate dean, dean, and interim president. Never satisfied with the status quo, he used each of these roles to advance the university's people and programs.
Fethke began his UI career as a student, earning a B.A. degree and a Ph.D. degree in economics. Although he spent a few years away from campus after graduation—teaching at Bradley University—he returned to Iowa in 1974 as a business faculty member. His research focused on macroeconomics and monetary economics.
In the years ahead, he bridged the world between teaching and management, becoming the Tippie College of Business's senior associate dean in 1989 and dean in 1994. His strategic thinking and bold vision enhanced business education at Iowa and helped ensure the UI's place within the international academic community.
"Gary was always willing to consider a fresh look and a new approach to create a better university."
As dean, Fethke launched initiatives and programs that remain points of pride for the college. Not only did he foster a teaching environment focused on excellence, but he also helped expand and develop various MBA programs, including the evening MBA programs in Newton and Des Moines and the Tippie International MBA program in Hong Kong. Additionally, he oversaw the establishment of the John Pappajohn Entrepreneurial Center, the Bedell Entrepreneurship Learning Laboratory, the Hawkinson Institute of Business Finance, and the Vaughan Institute of Risk Management and Insurance.
Under his guidance, the college began an early admission program and became home to the Judith R. Frank Business Communications Center, the Stead Technology Services Group, and the Henry and Krause Funds—two real-money funds managed by UI business students.
Fethke nurtured relationships with the college's generous alumni and friends, and some of his key fundraising accomplishments included the completion of the Pappajohn Business Building, the naming of the Henry B. Tippie College of Business, the development and funding for the Pomerantz Center, and the creation of numerous chairs, professorships, and fellowships.
After 12 years as dean, Fethke stepped down in 2005 to focus on teaching and research. However, when the university asked him to accept the role of interim president—a position he held from June 2006 to September 2007—he did so gladly and with a gift for, as a former UIAA president said, "thoughtfully and diligently making significant decisions" that benefited the university.
Among these decisions was the reorganization of the entire UI Health Care system—from management to facilities—which saved the university millions of dollars. Says former State of Iowa Board of Regents member Ruth Harkin, "Gary was always willing to consider a fresh look and a new approach to create a better university." Although Fethke retired from teaching in 2012, he continues to focus his research on the topic of higher education funding in America.
Gary Fethke once said that he would be a "footnote in UI history," but his willingness to think beyond business as usual has greatly influenced the university's growth and vitality. Thanks to his uncompromising leadership, skilled fundraising, and decades of hard work, the University of Iowa is indeed a stronger and more vibrant place.
Fethke is a life member of the UI Alumni Association and a member of the UI Foundation's Presidents Club.