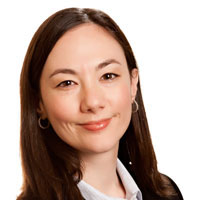 Meghan Henry Gutierrez
---
Meghan Henry Gutierrez, 98BA, the youngest chief executive officer of a national cancer-fighting organization, uses her position and public policy expertise to advocate for patients' rights and greater investment in biomedical research.
As head of the Lymphoma Research Foundation, the nation's largest nonprofit organization devoted to funding lymphoma research and education, Gutierrez has advanced both the study of new cancer therapies and improved patient care.
Since her time as a UI student, she has been interested in the intersection of government, philanthropy, and public policy. While pursuing a double major in education and history, she participated in numerous student organizations, including Dance Marathon and UI Student Government, where she was elected vice president as part of the UI's first all-female ticket.
"Being elected vice president of the UI Student Government was a transformative experience, and I value all the lessons learned and opportunities the position afforded me," says Gutierrez, who moved to Washington, D.C., after her graduation to work for Greg Ganske, 72BA, 76MD, one of the U.S. House of Representatives' foremost experts on health care policy. He says Gutierrez is "a true-blue Hawkeye who continues to promote the University of Iowa."
"Meg possesses a rare combination of brilliance, competence, and heart."
Her expertise in government relations and health care policy allowed Gutierrez to pursue an array of public policy issues during her career, ranging from mental health parity and rare disease awareness to medical technology and the treatment of chronic disease. Following her work on Capitol Hill, she served as a health policy and communications advisor for several national nonprofit and educational institutions, including Columbia University and the Partnership for a Drug-Free America.
"Meg possesses a rare combination of brilliance, competence, and heart," says Leslie McGuire, who worked with Gutierrez as the director of the National Center for Mental Health Checkups at Columbia University. "She is incredibly smart and strategic and is without a doubt the most impressive and capable person I've had on any team I've led."
In 2008, Gutierrez joined the Lymphoma Research Foundation as its chief program, policy, and communications officer. She was a driving force behind programs such as the country's only Adolescent and Young Adult Lymphoma Initiative and development of the first mobile app for people with lymphoma. She became chief executive officer in 2014.
In this role, Gutierrez represents the Foundation before a number of audiences, including the U.S. Congress, Department of Defense, Food and Drug Administration, and National Institutes of Health. She has written and lectured extensively about the needs of lymphoma patients and served on committees and panels of the American Society of Clinical Oncology, American Society of Hematology, Institute of Medicine, and National Cancer Institute.
While she devotes much of her time to speaking on behalf of those with lymphoma, Gutierrez also promotes her alma mater wherever she goes—her passion for the greater good rivaled only by her passion for the University of Iowa. Gutierrez and her husband Julian, 91BBA, a past chair of the UI Alumni Association (UIAA) board of directors, are loyal Hawkeyes who still attend and support numerous university and UIAA events.
From the Old Capitol to Capitol Hill and beyond, Meghan Henry Gutierrez continues to advance public policy toward finding a cure for cancer and serving those touched by the disease.
Gutierrez is a member of the UI Alumni Association's Directors' Club Honors Circle.