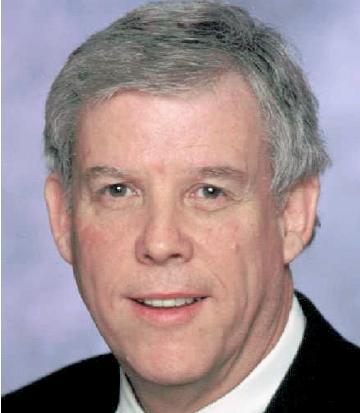 Phil Currie
---
Philip R. Currie, 62BA, brought the news to life for countless readers, thanks to his cutting-edge work in the field of journalism and mass communication.
From his earliest days as editor of the University of Iowa's student newspaper to his later years as senior vice president of news in Gannett's U.S. publishing division, Currie's journalistic integrity made him a pacesetter for an entire industry.
"Phil brought forward-thinking practices to the often arcane world of journalism, insisting on professionalism, accuracy, and honesty," says Michelle Foster, president of Media Management and Marketing and a former colleague of Currie's. "He strongly believes that a newspaper's content should reflect the communities it serves, in all their rich diversity."
Throughout his four decades in the business, Currie pushed for positive changes in news reporting. His emphasis on quality journalism in local communities brought ethical reporting to the fore, and he established criteria for ensuring that newsrooms embraced diversity in their hiring practices.
Such values stem back to his UI educational experiences, which shaped his exemplary career. "I learned the basics of good journalism while attending Iowa—in classes and on the Daily Iowan," says Currie. "That foundation has served me throughout my career and provided me with the direction to support ethical and balanced reporting and editing."
An esteemed journalist, Currie directed the coverage of the Attica State Prison riots in Attica, New York, which led to two reporters from the Rochester Times-Union winning a 1971 Pulitzer Prize. Later as a corporate news executive, he went on to craft a pioneering ethics policy for the Gannett newspaper division that prohibited the use of unnamed sources (except in rare circumstances). This policy was the first of its kind in corporate newspaper journalism and became a model for similar policies at other news organizations. Currie also helped lead the transition of Gannett newsrooms from a print- to digital-first emphasis until his retirement in December 2008.
Currie is a staunch defender of the First Amendment, and this commitment has driven his many personal and professional accomplishments. Not only did he focus on fact-based and watchdog journalism during his years with Gannett, but he also has been deeply involved with the Newseum Institute. A national organization based in Washington, D.C., the institute promotes, explains, and defends free expression and the five freedoms of the First Amendment. Currie was appointed to its board of trustees in 2016.
In addition, Currie chaired the American Society for Newspaper Editors' diversity committee and has served on the advisory boards for the Morgan State University School of Global Journalism and Communication in Baltimore and the Penn State College of Communications. He is also a member of the professional advisory board for the UI School of Journalism and Mass Communication, where he established a student scholarship and was instrumental in raising money for a new facility. The school inducted him into its hall of fame in 2014.
With a passion for strong news coverage, a deep commitment to diversity, and an unwavering belief in First Amendment responsibilities, Philip Currie has made an indelible mark on the nation's rich journalistic tradition.
Currie is a member of the UI Alumni Association's Old Capitol Club and the UI Foundation's Presidents Club.