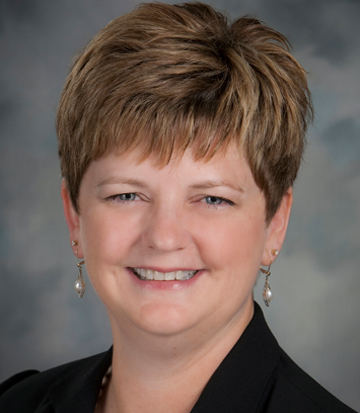 Margaret O'Connor Stessman
84BSN 12MBA
Achievement 2017
---
Margaret "Peg" O'Connor Stessman, 84BS 12MBA, has used her nursing skills and hard-won business acumen to create a company that combats fraud and waste within the Medicare and Medicaid system.
The savvy entrepreneur is founder, CEO, and chair of StrategicHealthSolutions, a business that was born in 1997 and came fully to life in 2005. Today, Stessman has grown her firm to encompass two locations, in Nebraska and Maryland, and 250 employees—with revenues of $40 million.
Stessman's start-up success began with her nursing degree at the University of Iowa, which set her on the path to a career as a nurse and hospital administrator. She eventually took on the role of a quality assurance administrator for the state of Nebraska, overseeing its Medicaid Managed Care Program, and went on to join IntegriGuard in 1999, moving up through its ranks to become CEO.
Her decision to launch a business prompted Stessman to return to her alma mater for an MBA degree. The two-time UI graduate is also a loyal Hawkeye athletics fan dedicated to both of her colleges. She is a member of the Tippie Advisory Board and offers critical counsel to the Henry B. Tippie College of Business dean. Says Stessman: "Receiving a portion of my education from Tippie, and now having a hand in guiding its future, is a great honor for me."
Stessman has created hands-on projects for students in the MBA Business Solutions Center and has spoken to both UI business and nursing students. She was the keynote speaker at the 2012 Women in Business Leadership Conference, as well as a panelist at #TippieWomen Summit.
"Peg provides generous financial support to both of her UI colleges, but for the CEO of a successful start-up company, time is more valuable than money," says Tippie Dean Sarah Gardial. "Peg's true measure of loyalty to the UI is her gift of engagement."
This ability to connect with and mentor others is one of Stessman's greatest talents. Not only does she apply it in her own business, establishing a "CEO Chat" program that allows employees to meet with her informally, but she also uses it in her many civic roles. She is deeply involved with the Omaha Salvation Army Kettle Club and served on the board of directors of the Nebraska chapter of the Entrepreneurs Organization (EO).
"Peg's willingness to share both her accomplishments and struggles has helped the business owners in our forum," says Chris Andersen, EO member and SunCo president. "Being an entrepreneur can be a lonely job, but Peg made me feel like I wasn't alone."
Stessman also knows how to rally others to worthy causes. She and her husband, Dennis, have established a trust that matches employee donations to the charities of their choice. To date, more than 100 charities have been supported through this program. She has served on the Salvation Army's Tree of Lights Cabinet, participates in the Salvation Army's Adopt-a-Family program, and donated jerseys to a local basketball team.
Whether she is supporting local initiatives, giving back to her alma mater, or working alongside colleagues, Peg Stessman brings the best of both her UI degrees to the business of being a leader.
Stessman is a member of the UI Alumni Association's Old Capitol Club and the UI Foundation's Presidents Club.