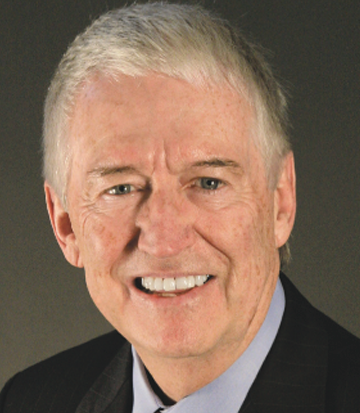 James Hayes
---
James "Jim" P. Hayes, 64JD, has tirelessly pursued a vision to keep renowned American Gothic artist Grant Wood's legacy alive at the University of Iowa—and far beyond.
A highly regarded attorney and passionate arts advocate, Hayes has dedicated himself to ensuring a better understanding of, and appreciation for, Iowa's most famous artist. And Hayes's quest has brought a vital community back to life on the UI campus.
The Grant Wood Art Colony grew out of Hayes's purchase of a house at 1142 East Court Street in Iowa City in 1975. This landmark residence was Grant Wood's home while the artist was on faculty at the University of Iowa, and as Hayes worked to restore the historic property, he began to imagine a way to honor Wood's "Iowa Idea" of connecting studio artists and art history scholars.
In partnership with the UI College of Liberal Arts and Sciences and the School of Art and Art History, Hayes turned his brainchild into reality in 2011, and today, he serves as chair of the colony's national board of advisors. The Grant Wood Art Colony nurtures creative work and teaching in disciplines associated with Wood, including studio and performance art and art history. It brings Grant Wood Fellows—artists-in-residence—to the School of Art and Art History, the Department of Theatre Arts, and the Department of Music, and it also hosts a biannual Grant Wood symposium and state outreach efforts.
"This community of artists and scholars has become a major force, with artistic energy and global reach," says Sean O'Harrow, who is the former director of the UI Museum of Art and current director of the Honolulu Museum of Art.
To help ensure a lasting home for the colony, Hayes—who envisions a vibrant cultural hub of interconnected living quarters, studios, and gardens—plans to bequeath his residence and its four surrounding properties to the university, upon his death. "It is my wish that it be a cultural center…a living place of activity, of people talking and doing things and meeting one another," says Hayes. "That's what it is now, and that's what I'd like it to continue to be."
His path from UI student to benefactor included roles as the Iowa deputy commissioner of public safety and as the first director of the Iowa Crime Commission. He also worked with Meardon, Sueppel, Downer, and Hayes before going on in 1999 to establish his own firm, Hayes Lorenzen Lawyers.
Throughout these career changes, Hayes has remained deeply invested in Iowa. He serves on the university's Realizing Educational and Career Hopes (REACH) advisory board, which helps students with cognitive and intellectual disabilities learn to live independently. He also has filled multiple volunteer roles for the UI Museum of Art, serving on its advisory, building, and envisioning committees, as well as on its members council.
Like the artist and UI faculty member who inspired him, Jim Hayes has used his time and talent to create a vibrant artistic community here that will enrich the student experience for generations to come.  
Hayes is a member of the UI Alumni Association's Old Capitol Club and the UI Foundation's Presidents Club.