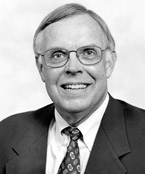 David L. Maher
---
David L. Maher, 64BSPh, a progressive leader in the pharmaceutical and food retail industry, is former vice president and chief operating officer of American Stores Company, headquartered in Salt Lake City, Utah. Having spent his entire career with one company, Maher has transformed it into a fully integrated food and drug store that ranks among the top few players in a rapidly consolidating business. The pharmaceutical care initiatives he has promoted are virtually unparalleled in the chain drug industry.
After beginning his career as an Osco pharmacist in Iowa City, Maher rose through the ranks of a growing company. After 32 years with the American Drug Stores company, he spent the remaining six years of his career with the parent company, American Stores Company. Maher first learned about the rigors of day-to-day retail operations as a store manager, then stepped up to the challenge of motivating other store managers in his role as district manager. He soon became regional personnel manager and then vice president of personnel and pharmacy. For many years, he was vice president of several geographic regions of American Drug Stores, Inc. In 1990, he was named chairman, president, and chief executive officer of American Drug Stores. In 1993, he was named senior executive vice president and chief operating officer of the parent company, American Stores. In 1995, he was elected president and chief operating officer of the company, and in 1998, he was elected vice chairman of the board and president.
Combining his knowledge of pharmacy and business with superb leadership skills, Maher has implemented a simpler management structure, yielding good profit for the company. Under his tutelage, American Stores began its transformation into an operating company centralizing procurement, distribution, logistics, real estate, and other support functions. Through this process, American Stores gained recognition as a singularly bold enterprise, a fully integrated food and drug store company that ranks in the top tier of chain businesses.
His colleagues have been quick to acknowledge Maher's leadership. Serving recently as chairman and president of the National Association of Chain Drug Stores, the leading association representing the entire chain drug industry, Maher has been cited for his work in forging stronger bonds between pharmacies, the association, and colleges of pharmacy nationwide.
Maher has served on the UI College of Pharmacy Building Campaign Committee and the college's Development Council. In 1996, his company made a four-year $100,000 pledge to the renovation of the college's Learning Resource Center, providing crucial funds for updating the 36-station computer lab, classroom, and study space. Also, in the same year, Maher and his wife, Marilyn, personally gave the lead gift commitment for remodeling the UI Pharmacy Dispensing Laboratory.
Maher is presently chairman of an Internet home health care company, CareGuardian Online; a director of CornerDrugStore.com; general partner of DMM Enterprises, an investment management company; and a director of the Steadman Hawkins Orthopedic Sports Medicine Foundation in Vale, Colorado.
Maher is a member of the UI Alumni Association's Old Capitol Club and a member of the UI Foundation's Presidents Club.