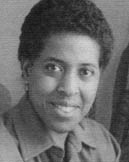 Lilia A. Abron
---
Lilia A. Abron, 72PhD, is the first African-American woman in the nation—and the third woman at the UI—to receive a doctorate in chemical engineering.
In 1978, after a teaching career at Tennessee State University, Vanderbilt University, Washington State University, and Howard University, Abron left academia and founded PEER Consultants, P.C., an environmental consulting firm headquartered in Washington, D.C. Today, she is president and chief executive officer of PEER, which has grown to include branch offices in ten U.S. cities and a staff of 120. Abron also serves as either the program manager or technical reviewer for all PEER projects, which generate revenues of more than $10 million annually.
A registered professional engineer, Abron is a member of several professional and technical societies, including the Water Environmental Federation, the American Society of Civil Engineers, the American Water Works Association, the Society of Sigma Xi, and the American Association of University Women. She also serves on the Board of Registration of Professional Engineers for the District of Columbia and the Engineering Advisory Board for the National Science Foundation.
Beyond her work at PEER, Abron has been active in a number of community organizations, including serving as president of the Washington, D.C., chapter of Jack and Jill of America, Inc., and as a board member for the Baptist Home for Children. She also play handbells in the Angelus Bell Choir at her church.
In addition, Abron uses business acumen and engineering expertise to promote science education in primary and secondary schools. Her company supports science fair projects by purchasing equipment and supplies for students, and Abron encourages PEER staff to work with children in their neighborhood schools. She serves as a mentor for several students each year.
Active on the lecture circuit, Abron visited the University of Iowa in February 1992 to urge UI engineering students to serve as role models and mentors for schoolchildren. "We must remember that every PhD in engineering and every CEO of a major corporation was at one time in the second grade," she said.
Abron is a life member of the UI Alumni Association.