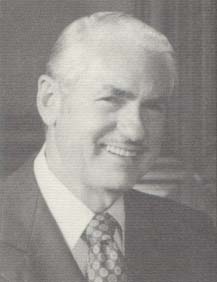 Don W. Chapman
37BS, 39MD, 44R
Achievement 1993
---
Don W. Chapman, 37BS, 39MD, 44R, a fourth generation physician, has had an accomplished career as a cardiologist and professor of cardiology at the Baylor College of Medicine in Houston.
When Chapman arrived at Baylor in 1944, he found a medical center that consisted of a fledgling medical college and one 234-bed hospital. Within two years , Chapman introduced cardiac catheterization to the Texas Medical Center, allowing Baylor physician to offer precise diagnosis and heart disease intervention throughout the southwestern United States.
Under Chapman's leadership as a physician and educator, Texas became a pioneer in cardiovascular diagnostics and surgery. A member of the first Houston team that used a mechanical pump to circulate blood during open heart surgery, Chapman also participated in one of the first coronary bypass operations in a Houston hospital and was a member of the team that researched and developed initial mechanical heart implants.
As director of Baylor's Section of International Medicine, a program that sends students to teaching centers around the world, Chapman has promoted cardiology education through foreign interchange. Internationally, he has served as a visiting professor and conducted seminars in several countries, including China, Columbia, Germany, South Africa, Guatemala, Switzerland, and Turkey.
Author of more than 100 publications of medical literature, Chapman has received numerous awards for his work as a physician and educator. Named a Master of the American College of Physicians in 1983, Chapman received the Distinguished Faculty Award at Baylor in 1978 and again in 1981 and 1993. Students at Baylor voted him Outstanding Teacher in 1958 and 1962, and last year he was honored with the Cain Foundation's endowment of the Don W. Chapman, M.D., Chair of Cardiology at Baylor. In 1985, he received the first Texas Laureate Award ever bestowed by the Texas Academy of the American College of Physicians.
Though semi-retired, Chapman continues to teach at Baylor and to direct its Section of International Medicine. He also serves as a consultant for Houston Cardiovascular Associates, the partnership he founded in 1955.
Chapman and his wife Mary Louise Whitney Chapman, 45BS, 45GN, are life members of the Alumni Association.