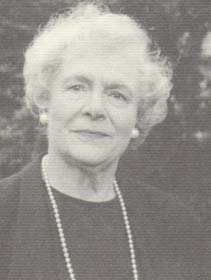 Patricia Sleezer Ritter
---
Patricia Sleezer Ritter, 41BA, is a woman with a mission. No matter where she has directed her bountiful energy and problem-solving skills—whether it be to improve civil rights, to create affordable housing, to integrate neighborhoods, to provide continuing education opportunities for prisoners of war, or to help people from different cultures understand and appreciate each other—she has succeeded in translating compassing into action.
During World War II, Pat Ritter worked with the World Student Service Fund to create ongoing university courses for American prisoners of war in Germany. When the war was over, she went to Austria to be Margaret Mead's teaching assistant; helping young people on both sides of the conflict develop new, cooperative relationships.
In the early 1950s, along with raising five children, Pat Ritter began to mend rifts in her community in Connecticut, where she became the first woman appointed to the State Commission on Civil Rights. Acting on her conviction that fair housing means nothing without the financial means to take advantage of it, Ritter and her husband George founded the Connecticut Housing Investment Fund, which has helped thousands of families buy homes in areas previously closed to them. Still effective in changing the texture of Connecticut neighborhoods, the organization as attracted corporate support that has led to its replication across the nation. In 1979, President Jimmy Carter appointed Ritter a director of the National Housing Partnerships in Washington, D.C.
It was at the peak of her career as a leader in civil rights and housing reform that the Cultural Revolution in China came to an end. In 1979, Pat Ritter was one of a small group of Westerners invited by the Chinese Ministry of Education to advise on the rehabilitation of the universities in China. Her work teaching English in that country, coupled with her founding of the Lighthouse Libraries, has earned her the trust and respect of a people long shut off from the rest of the world. The China in Connecticut foundation she established in 1980 has brought scores of Chinese students to study all across America.
Ritter received an honorary Doctorate of Humane Letters from Heilongjiang University in Harbin, China, in 1986. In 1990, Lawrence University also recognized her with an honorary Doctorate of Laws. She is a member of the UI Alumni Association and the UI Foundation's Presidents Club.