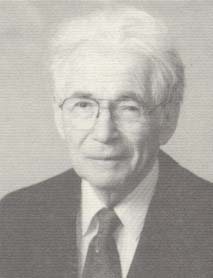 Himie Voxman
22BSCHE, 34MA, 08LHD
Achievement 1993
---
Himie Voxman, 33BSChE, 34MA, is Iowa's own "music man." He and his clarinet came to the University of Iowa from Centerville in 1929, the year the new football stadium opened on the west side of the Iowa River. Nearly 65 years later, Voxman recalls the fraternity of musicians who sat through a drenching rainstorm to play for the stadium dedication on a gray October day.
A chemical engineering student at the university, Voxman relied on this music to get through school, teaching clarinet to high school students to pay for his college expenses. After graduating with high distinction in 1933, he entered Iowa's master's program in the psychology of music and studied under Carl Seashore, one of the pioneers in developing aptitude tests for music.
In 1939, Voxman was appointed an instructor of woodwinds at the UI School of Music, subsequently rising through the academic ranks to become full professor. When Phillip Greely Clapp died in 1954, Voxman was appointed director of the school, serving the University of Iowa in that capacity until he retired in 1980. It was in large measure due to Voxman's astute leadership that the university gained a national reputation as one of the country's premiere music schools. Not only did he attract and develop a faculty with uncommon strengths, but his attention to the music library made it an enviable resource for music scholars around the world. It was under Voxman's leadership that the school received a Rockefeller grant to establish the Center for New Music, which has added another dimension of distinction to Iowa's School of Music.
Almost anyone who has taken up a wind instrument will recognize the name of Himie Voxman. His pedagogical method books have been the mainstay of instruction around the world for more than half a century. Perhaps as much because of his gentle manner as his thorough methodology, Voxman has encouraged thousands of musicians to attain their individual potential. Active in professional organizations and duly recognized with two honorary doctorates, Voxman continues to influence new generations of music makers.
Voxman and his wife Lois Wilcox Voxman, 40MA, are members of the Alumni Association and the UI Foundation's Presidents Club.