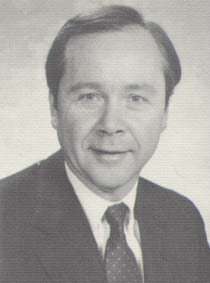 Thomas D Smith
---
Thomas D. Smith, 62BBA, joined the Alumni Association's board of directors at a critical time in its history. As chairman of the search committee for a new executive director in 1987, Smith played a prominent role in revitalizing the organization and defining is mission. He led the search committee to a broader understanding of alumni work, later using his administrative skill to encourage both volunteer and professional input into the development of the organization's first long-range plan. Always conscious f the Alumni Association's commitment to its members, he proved to be a diligent watchdog over the financial future of the organization as chairman of the board's finance committee. Smith's service to his fellow alumni culminated in his election to the presidency of the 45,000-member UI Alumni Association in 1990.
After earning a degree in business administration from the University of Iowa in 1962, Smith spent more than 23 years with Northwestern Bell Telephone Co. and AT&T, rising from management trainee status in Des Moines to become vice president and chief executive officer for Iowa in 1983. From 1963 to 1983, he served in senior management positions at AT&T in New York City and in Northwestern Bell's Omaha office, becoming treasurer of the company in 1980. He took early retirement from the Bell system in 1986, the year he became executive vice president and chief financial officer of Bankers Trust in Des Moines.
Smith's record of volunteer service is admirable. He is currently chairman of the board of Iowa Lutheran Hospital and vice chairman of the Des Moines Metro YMCA. He has also served as chairman of the board of United Way of Central Iowa and had been a board member of Living History Farms, Drake University, the Mid-Iowa Council of Boy Scouts, the American Heart Association, and the Iowa College Foundation.
A member of the UI Alumni Association's Directors' Club, Tom Smith is known to have an insatiable appetite for anything bearing the University of Iowa logo. He is justifiably proud of his school and has worked hard to contribute to its advancement. Smith and his wife Janet are members of the UI Foundation's Presidents Club.