After a year hiatus, alumni, fans, and friends will return to Iowa City during homecoming to reconnect with the people, places, and traditions that make Iowa special.
Hawkeyes will visit campus the week of October 11 – 17, 2021, for University of Iowa Homecoming. From longstanding traditions like the homecoming parade and Iowa football game, to more intimate gatherings like class reunions and award ceremonies, this guide can help you plan your homecoming itinerary.
To view more events, visit the University of Iowa Homecoming website. If you can't join the festivities in Iowa City, show off your black and gold proudly be participating in the Iowa Spirit Day Homecoming Photo Contest on social media. You could win a $50 Iowa Hawk Shop gift card.
IOWA HOMECOMING PARADE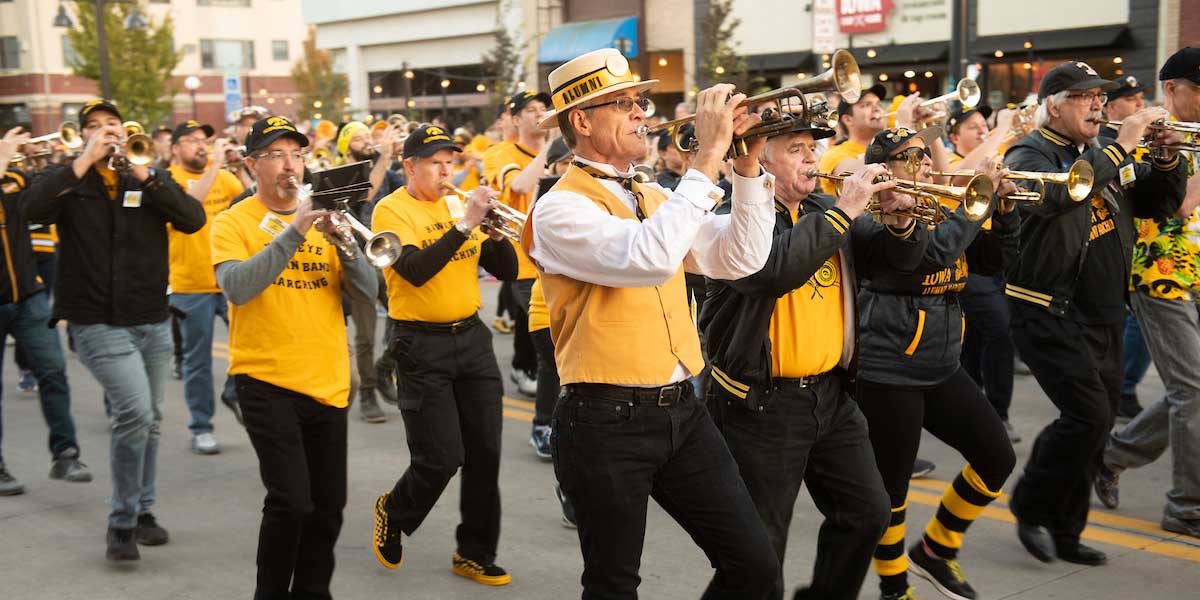 PHOTO: University of Iowa
The Alumni Band performs during the 2019 University of Iowa Homecoming parade in downtown Iowa City.
5:45 p.m.
Friday, Oct. 15
Downtown Iowa City
Hawkeyes will line the streets of downtown Iowa City to watch the University of Iowa Homecoming parade beginning at 5:45 p.m. on Friday, Oct. 15. The parade has been a fixture of the celebration since 1917.
Sport your black and gold proudly while waving to Herky, grooving to the music of the Hawkeye Marching Band and Alumni Band, and enjoying the floats. After the parade, walk to one of the many delicious downtown eateries located near the parade path. If you have a hankering for pizza, Iowa graduates have some recommendations (ahem, strong opinions) on where to go for a slice.
IOWA HOMECOMING FOOTBALL GAME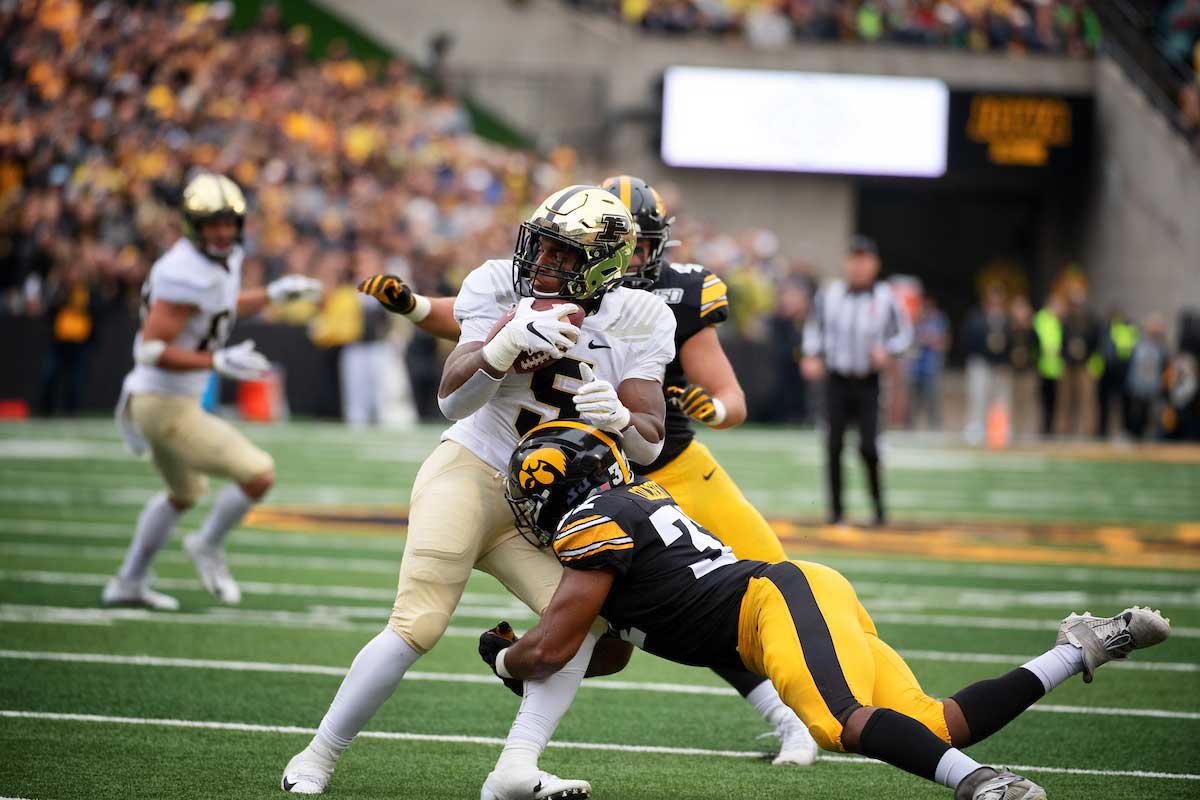 PHOTO: Hawkeye Sports
Iowa will face Purdue during the homecoming football game at 2:30 p.m. on Saturday, Oct. 16. The Hawkeyes derailed the Boilermakers 26-20 in front of a sellout crowd inside Kinnick Stadium during the 2019 homecoming game (pictured).
2:30 p.m.
Saturday, Oct. 16
Kinnick Stadium
The Iowa Hawkeyes will face the Purdue Boilermakers at 2:30 p.m. on Saturday, Oct. 16 inside Kinnick Stadium. Note the kickoff time is not 11 a.m. Get hyped before the game with Iowa Magazine's Iowa Icons series where you can step back in time with Hawkeye football nostalgia.
You'll notice a few changes at Iowa football games in 2021:
Alcohol Allowed
New this year, fans will be allowed to purchase beer, wine, and hard seltzers inside the stadium. Sales will end at the beginning of the fourth quarter.
Mobile Ticketing and Parking
Mobile tickets will be scanned using your smartphone. Be sure to have your phone charged—it's not a bad idea to pack a travel charger. Present your mobile ticket when entering at gates A, B, H, I, and M. Those are the only entrance gates.
No Hawkeye Express
The University of Iowa Athletics Department discontinued its operation of this passenger train for fans. If you used this service in the past, you'll need to consider other accommodations for parking and walking, riding, or busing to the stadium.
You can also cheer, cheer, cheer for Iowa during the Hawkeye volleyball game at the recently opened Xtream Arena in Coralville on Friday evening as well as at the field hockey and women's soccer matches on Sunday.
CEREMONIES AND RECEPTIONS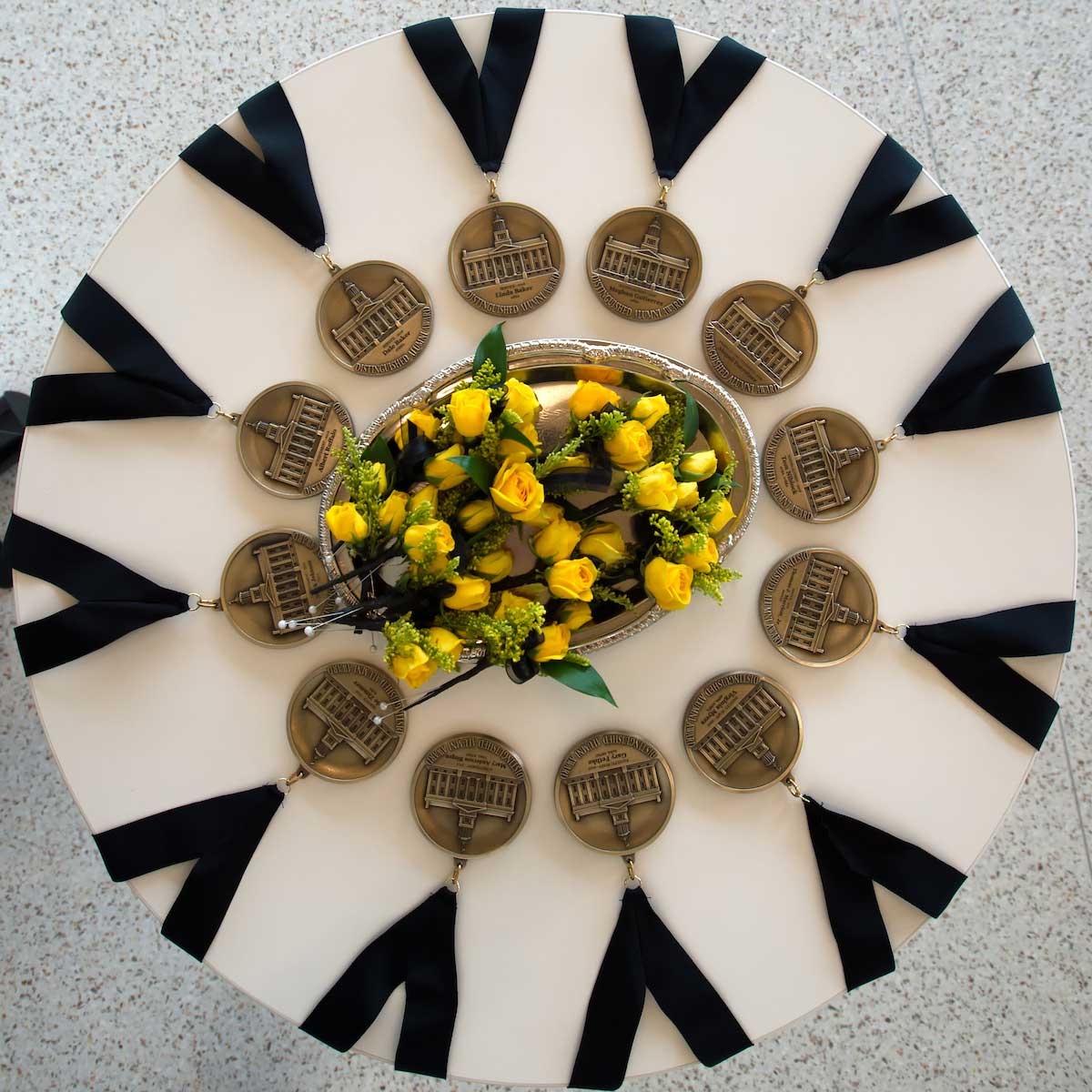 PHOTO: University of Iowa
The 2020 and 2021 University of Iowa Distinguished Alumni Award honorees will be recognized during an in-person ceremony on Friday, Oct. 15, at Voxman Music Building.
Several colleges and units will host alumni for a tailgate, award ceremony, reception, reunion, or building tour. Individual listings are available on the homecoming website.
All alumni and friends are invited to honor the university's 2020 and 2021 luminaries during the prestigious University of Iowa Distinguished Alumni Awards ceremony at 3 p.m. on Friday, Oct. 15. If you'd like to attend, be sure to RSVP.
OTHER THINGS TO DO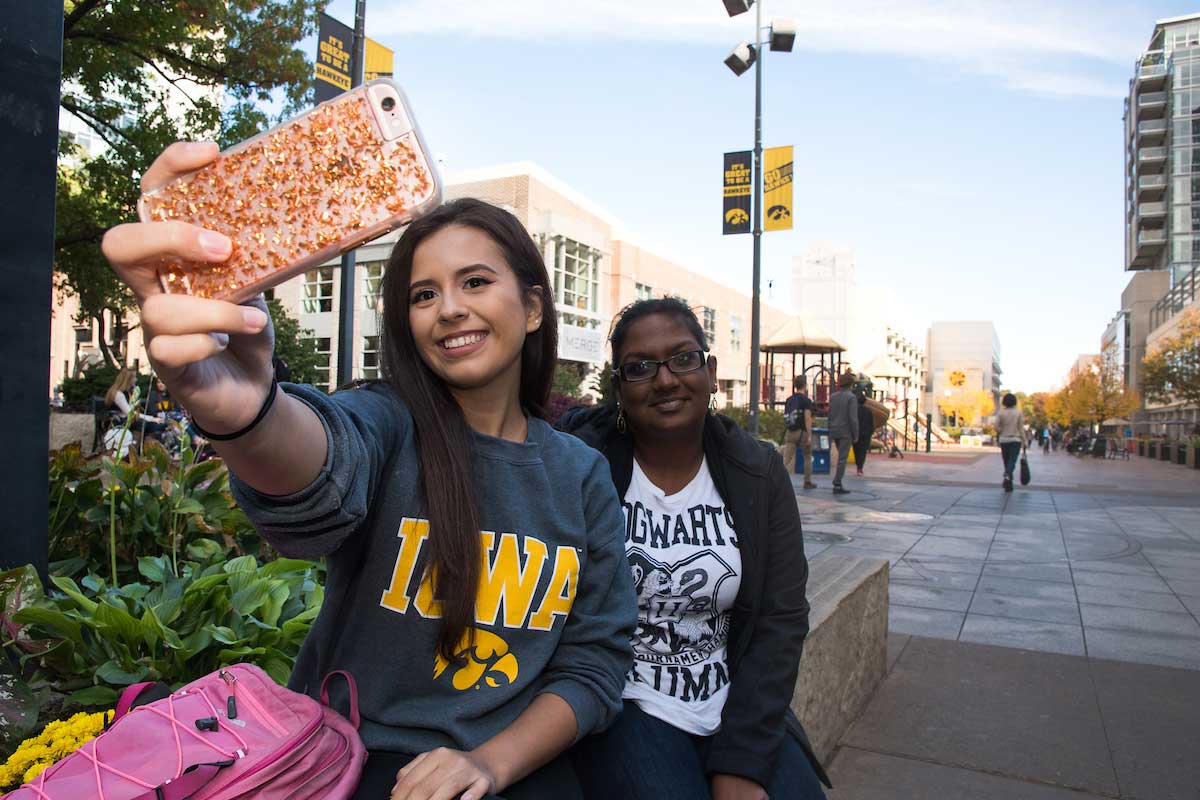 PHOTO: University of Iowa
There are many places to explore, eat, and shop in downtown Iowa City.
If you're looking for more recommendations for things to do and see between scheduled homecoming events, you can find some ideas from Think Iowa City, the Iowa City/Coralville Convention & Visitor's Bureau. This includes seeing Toby Keith in concert on Thursday, Oct. 14 at Xtream Arena or spectating UCI Cyclocross World Cup races in Iowa City on Sunday, Oct. 17. Race event proceeds benefit UI Stead Family Children's Hospital. Additionally, enjoy these three free options:
Pedestrian Mall
Take a walk around the downtown area and explore the public artwork.

Museums
Visit the Pentacrest Museums. Old Capitol and the Museum of Natural History are open.
Literature
Celebrate Iowa City's unique designation as a UNESCO City of Literature and home to the world-renowned Iowa Writers' Workshop. Take a self-guided, 1-mile literary tour. Or complete a literary walk in downtown Iowa City, where the sidewalks are decorated with bronze panels that feature words from authors who launched their careers here.
Eclectic shops and local restaurants, bars, and coffee houses are all within walking distance of these sites. Hawkeyes know Iowa City's downtown area and the university's campus continues to change. Visit your old favorites or try something new since you've visited last.
STAY IN TOUCH
Homecoming is a great opportunity to reconnect with Iowa—but it doesn't have to be the only time. You can stay in touch with the University of Iowa by updating your contact information, joining an alumni network, and reading Iowa Magazine.
---
A note on COVID-19: The University of Iowa continues to rely on guidance from the Board of Regents, State of Iowa; the Iowa and Johnson County departments of public health; and the Centers for Disease Control and Prevention regarding face masks, social distancing, and other health and safety measures.
Check with surrounding communities and independent businesses about their policies related to masking and other pandemic protocols before you visit. 
---