The longtime multipurpose building served as the university's first teaching hospital.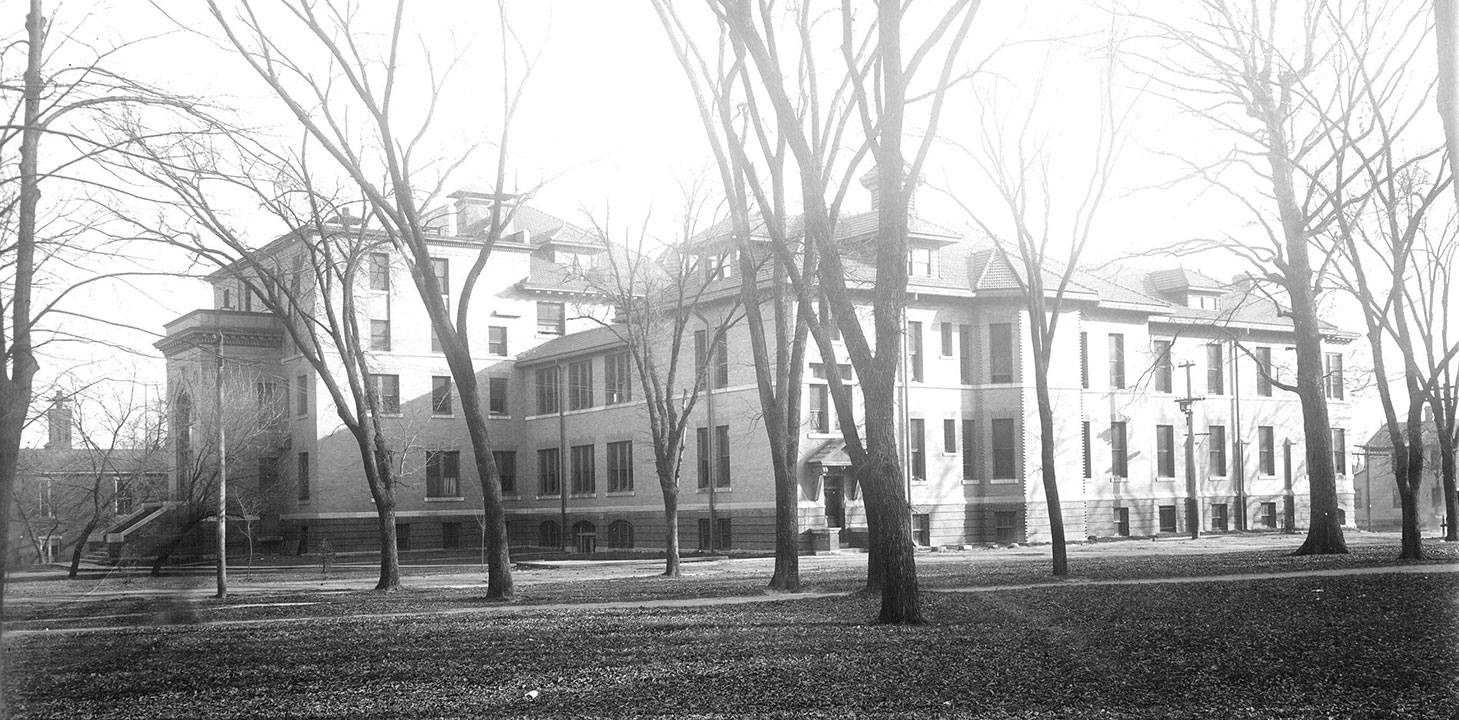 F.W. Kent Collection (RG 30.0001.001), University Archives, the University of Iowa Libraries
University Hospital, early 1900s
Old Gold's elementary school in the 1960s was crowded and filled with baby boomers. At the aging 1913 Washington Grade School in Charles City, Iowa, we had a multipurpose room with a variety of monikers, depending on its use at the moment: the brown-bag lunch room, the music lesson room, the indoor recess room, the PTA meeting room.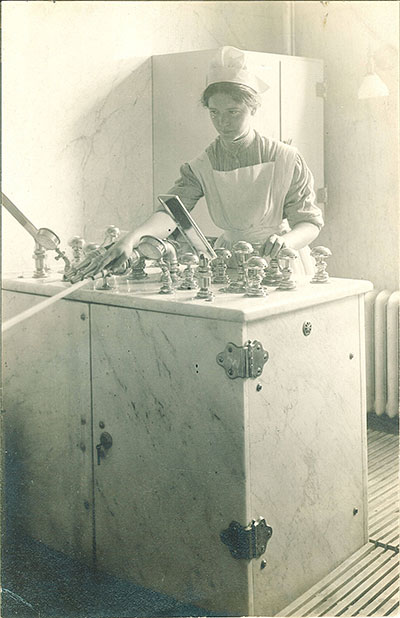 F.W. Kent Collection (RG 30.0001.001), University Archives, the University of Iowa Libraries
Nurse working in hydrotherapy, 1910
Old Gold has his own memory of that room. As a worried fifth grader, he had a talk with his vocal music teacher early one morning when she assured him he would be fine in the upcoming spring concert. (Old Gold had a bad case of stage fright at the time and still gets nervous, but thanks to Miss Esther Charlotte Smith, those fears aren't as strong as they once were.)
Why muse upon a multipurpose room? The reason is sad and simple: The remaining portion of Seashore Hall, a longtime multipurpose building for the University of Iowa, will soon be demolished. The Department of Psychological and Brain Sciences, long overdue for updated facilities, is scheduled to begin classes in its new building at the site in the 2020 spring semester. The Iowa Board of Regents has approved the final stages of demolition of the aging Seashore—a process that began in early 2018. The Department of Psychological and Brain Sciences will, at last, be situated in a facility that match its outstanding reputation.
In its original state, Seashore Hall was known as University Hospital, the university's first building constructed to serve as its hospital, in 1899. Even at that time, the location was historic: Mechanics' Academy, site of the university's first classes when it opened its doors to students in 1855, was situated here. The original hospital was a 65-bed unit that served two missions: healing and instruction. In doing so, the facility laid the groundwork for today's University of Iowa Health Care, a nationally recognized public teaching hospital.
By the early 1920s, it became clear the medical campus had outgrown its original three-block area downtown. In 1929, with the opening of General Hospital west of the Iowa River, the old hospital was renamed East Hall. Over time, a variety of university departments and offices occupied the structure, including journalism, sociology, psychology, computing services, and audio-visual services. For a brief time in the 1940s it even housed Old Gold's office, the University Archives. In 1981, East Hall was again renamed, this time in honor of Carl Seashore, who served as dean of the Graduate College from 1908 to 1937.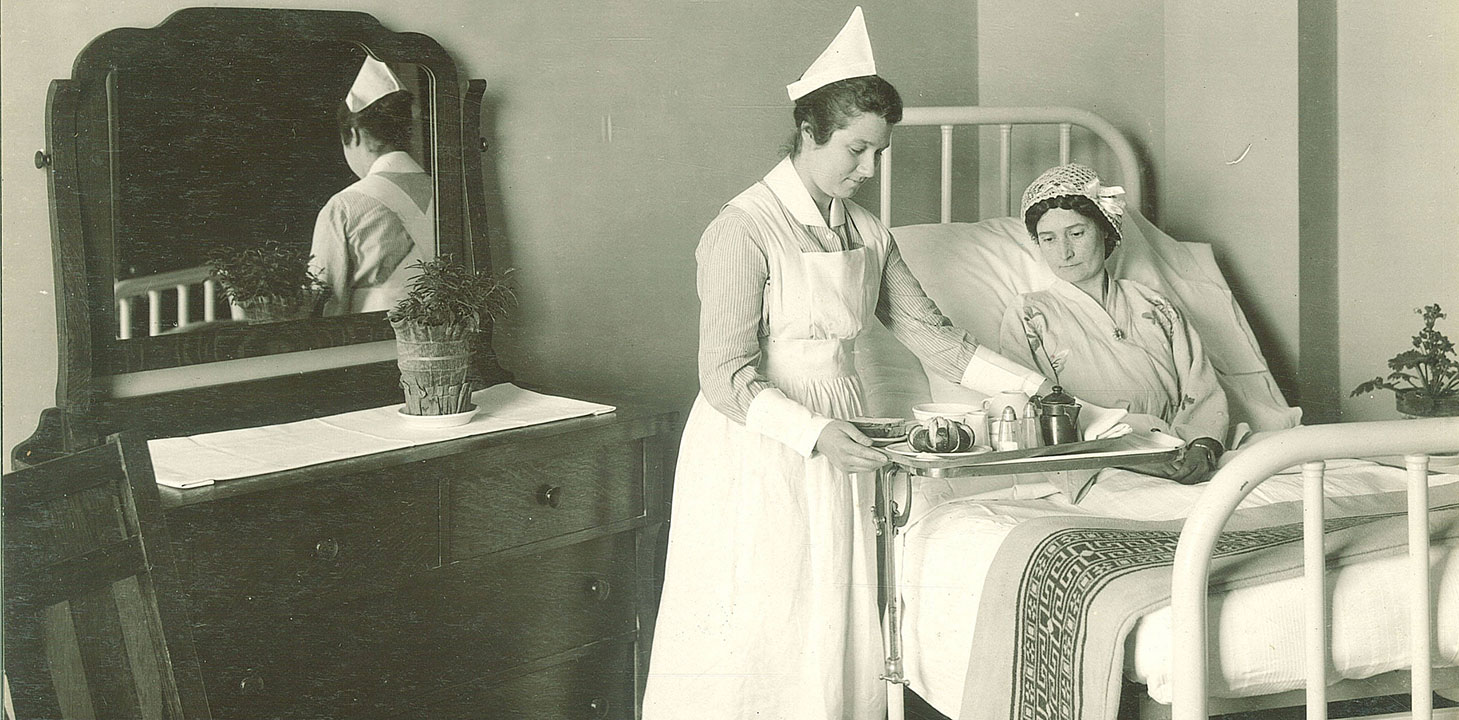 F.W. Kent Collection (RG 30.0001.001), University Archives, the University of Iowa Libraries
Nurse bringing patient dinner tray in a private room at the University Hospital, early 1920s
Seashore Hall underwent numerous additions, subtractions, and changes to its original design over the decades—so much so that a modern-day observer might think that it was designed by a committee that couldn't quite agree on a consistent appearance. Indeed, according to John Beldon Scott and Rodney Lehnertz's (02MBA) informative book, The University of Iowa Guide to Campus Architecture (University of Iowa Press, 2006), "the original all-brick, stripped-down, Beaux-Arts building of 1899 faced Jefferson Street rather than Iowa Avenue and was constructed on a red-brick base with buff-colored walls and an argyle pattern in red and beige brick on the top two floors." In just a few years, however, this orientation was changed toward Iowa Avenue, with new features designed by Proudfoot, Bird, and Rawson, the Des Moines-based architectural firm that designed other campus facilities during this period.
The loss of one of the university's great "multipurpose rooms" is bittersweet to Old Gold, who laments the imminent destruction of one of campus' oldest existing structures. Old Gold, however, also acknowledges that such things are often inevitable and is eager to see the newly designed replacement when it's completed. From there, new memories of life-defining conversations will emerge, much like Old Gold's early-morning meeting with Miss Smith over 50 years ago.
Editor's note: In Old Gold, university archivist David McCartney looks back at the UI's history and tradition through materials housed in University Archives, Department of Special Collections, University of Iowa Libraries. Find more UI history stories in our Old Gold archive.