Hawkeyes gather to celebrate an unforgettable coach who innovated and inspired.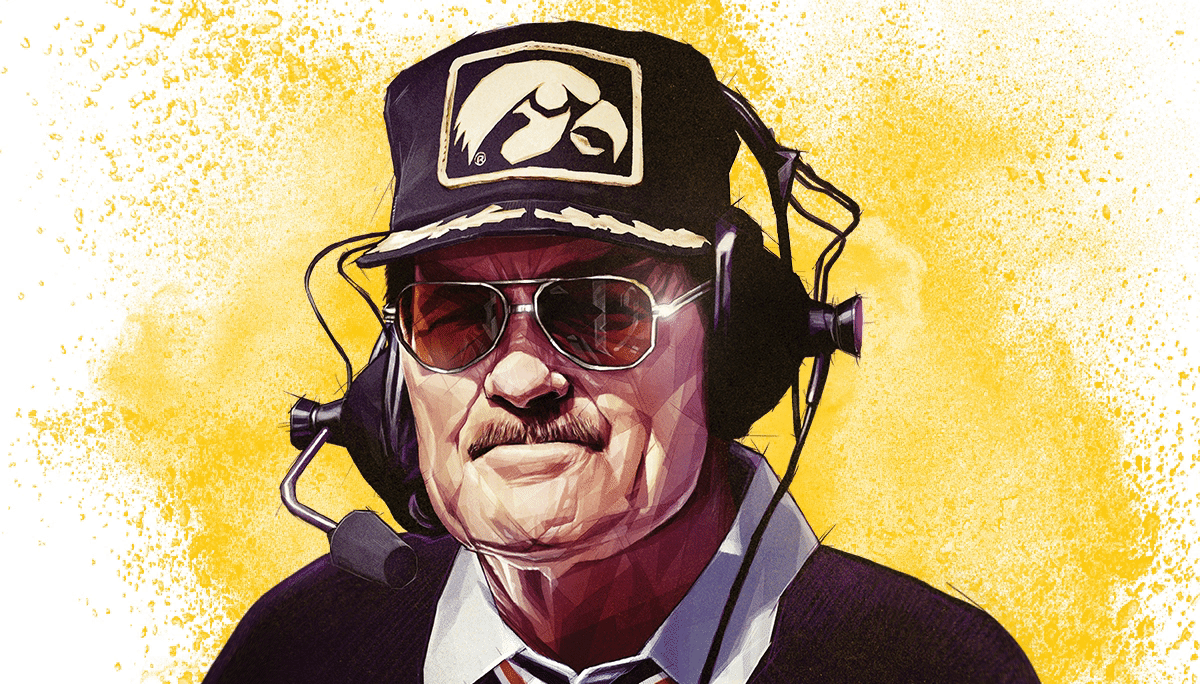 Illustration by Dave Merrell
Hayden Fry seemed to have a folksy West Texas expression for every occasion. Heading into a big game, his coaching philosophy was to "scratch where it itches." When the "hay was in the barn," it meant his team was well-prepared for Saturday. After a tough loss, he quipped that "the sun don't shine on the same dog's rump every day."
So when family, friends, and fans came together last month to celebrate the life of the College Football Hall of Fame coach, who died Dec. 17, 2019, at age 90, Fry of course left the perfect description for such a day. A "High Porch Picnic"—Hayden-speak for an exceptionally good time—was the title of Fry's memorial service in his home state.
Hundreds turned out for the service Jan. 25, 2020, at the Ford Center at The Star, the Dallas Cowboys' practice facility in Frisco, Texas. Among the attendees were offshoots from the famed Fry coaching tree like retired Kansas State coach Bill Snyder, former Oklahoma coach Bob Stoops (83BBA), and Iowa coach Kirk Ferentz.
Also on hand were dozens of Fry's players who defined Iowa football in the 1980s and '90s, including stars like Chuck Long (85BBA), Quinn Early (87BA), Chuck Hartlieb (88BBA), and Merton Hanks (90BGS).
Speakers included members of Fry's teams at Southern Methodist University and North Texas, including SMU receiver Jerry LeVias, whom Fry recruited to become the first African American scholarship player in the Southwest Conference. An emotional Ferentz also gave a touching eulogy for his mentor.
"He changed my life dramatically," Ferentz said. "For so many players and coaches and just people in general—certainly people in the state of Iowa—it's just amazing the impact he had."
Ferentz credited Fry for teaching him to coach and lead with integrity—while remembering to have fun with his players. The Hokey Pokey, pink locker rooms, and wide-open playbook all were reflections of his larger-than-life personality.
"Coach Fry came to Iowa with white pants, sunglasses he wore inside as well as outside, a Texas accent, and Texas sayings that not many of us understood, certainly not a young guy from Pennsylvania," Ferentz said. "But he also came with a clear vision."
Coach Ferentz speaking at Hayden Fry Memorial

Posted by Jerica Parker on Saturday, January 25, 2020
The tributes poured in even before the memorial service. Earlier in January, Snyder, who coached under Fry for 13 years at North Texas and Iowa before leaving for Kansas State, received the annual Bear Bryant Lifetime Achievement Award. In his final days, Fry wrote a letter in honor of Snyder that was read aloud at the award ceremony in Houston. Snyder, in turn, used his acceptance speech to thank Fry, whom he called "a special, special man."
Fans joined the former players and coaches in remembering Fry at the "High Porch Picnic" service. Afterwards, more than 200 members of the Dallas-Fort Worth Iowa Club gathered at a local restaurant to toast the legendary coach. Offensive coordinator Brian Ferentz (06BA) addressed the club, and several former players stopped by, including Sedrick Shaw (97BA), Jared DeVries (98BA), and Tim Dwight (99BS).
---
For more on Fry's legacy, read Iowa Magazine's 2017 feature story on the coach, and look back at his career with this tribute video.
Memorial contributions can be made here to the Hayden Fry Football Captain's Scholarship Fund and/or to the J. Hayden Fry Center for Bladder and Prostate Cancer Research.