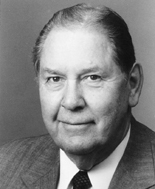 John E. Tyrrell
---
John E. Tyrrell, 47BA, 50MD, a major actor in Iowa's medical community and former member of the Board of Regents, State of Iowa, has been innovative in practicing rural family medicine and in building bridges among physicians statewide.
Tyrrell has undertaken the need of physicians for better and more timely information on a referred patient's treatment. By developing a new system, called UI Consult, Tyrrell helped give physicians faster access to medical staff at University of Iowa Hospitals and Clinics for consultations. As a result of his work, patients now benefit from more cohesive medical treatment and information.
With his long interest in securing better community health care through dialogue, planning, and implementation, Tyrrell has held several key leadership positions. He has chaired several local and state health planning boards. For the Iowa Medical Society, he was district councilor, chairman of the judicial council, chairman of the board of trustees, and president. Nationally, he served as representative of the American Medical Association on the Advisory Committee on Outpatient Care for the Accreditation of Hospitals.
His volunteer career extends beyond medicine into community development, many programs at the University of Iowa, and higher education in general. His work for post-secondary education was recognized in 1991 with his appointment to the Board of Regents, State of Iowa. For six years he helped administer Iowa's three state universities and two state schools. Since the 1950s to the present, generous gifts from Tyrrell and his wife, Clarine, have supported everything from the College of Medicine to the UI radio stations to the University Libraries.
As he does with the medical profession, Tyrrell commits his most valuable commodity time to UI programs and special projects. The UI Alumni Association benefited from his leadership when he presided over the Old Capitol Club Board of Directors. He recently served as a member of the National Campaign Steering Committee for the College of Medicine Capital Campaign Seeking Knowledge for Healing. Presently, he and Clarine are regional co-committee members of the Hancher Auditorium Millennium Festival Fund, a $2 million campaign to commission new works, hold a cultural arts forum, and remodel the Hancher entrance.
Outside the UI, Tyrrell invests time in whatever helps the children and families of his community. The Northeast Iowa Council of Boy Scouts honored him with the Silver Beaver Award, the highest service recognition in the national organization. He also served as campaign chairman for the Delaware County United Way. Currently, Tyrrell serves as chairman of Manchester Enterprises, Inc., the industrial development organization for his community, and he is Chairman of the Board of Governors of the Greater Delaware County Foundation.
Tyrrell is a member of the UI Alumni Association's Director's Club and a member of the UI Foundation's Presidents Club, and he continues to serve as a lifetime honorary director of the UI Foundation.