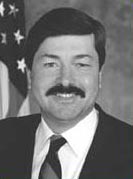 Terry E. Branstad
---
Terry E. Branstad, 69BA, stepped down this year as the nation's most senior governor and as the longest serving governor in the history of Iowa. During his 16-year tenure, he maintained a steadfast commitment to achieving his vision for the state, undertook difficult political challenges, and worked diligently to make Iowa a safe and prosperous place to live, work, and raise a family.
After graduating from the University of Iowa and following military service in the U.S. Army, Branstad earned his law degree from Drake University Law School. He embarked on his public service career in 1972, when he was elected to the Iowa House of Representatives. Branstad served six years in the Iowa legislature and four years as lieutenant governor, before becoming the youngest person ever elected governor in Iowa.
Branstad faced formidable challenges when he moved from his Lake Mills law office to Des Moines in January of 1983. Unemployment had risen to nine percent statewide, and high interest rates and declining land values were ransacking Iowa's farm economy.
Branstad immediately proclaimed economic development and education as his guiding priorities, and job creation became his battle cry. In a series of changes that included a focused effort to diversify Iowa's agriculture-based economy, a restructuring of state government, landmark spending limits and welfare reforms, Branstad helped to dramatically improve the state's fiscal position. He left the state with the largest budget surplus in history, $896 million.
By far the biggest building project of the Branstad legacy was the completion of the statewide Iowa Communications Network—a two-way, fiber-optic feed that links the state's most remote areas to the world's information superhighway. In a related effort to enhance learning opportunities in all parts of the state, Branstad established the School Improvement Technology Program that provides resources for schools to take advantage of new technology-based teaching tools.
The driving force behind increasing efficiency, Branstad oversaw reorganization of the state government in 1986 and significantly reduced the number of departments and agencies. In the first year after the reorganization, the state achieved a savings of approximately $40 million. Branstad's governmental reorganization and state spending reforms received renown as a national model, and, in 1995, Iowa was recognized in Financial World as one of the best managed states.
Branstad made it a point to visit all 99 counties each year—a practice he says was spurred by his roots. Coming from a rural county close to the Minnesota border, he wished to dispel the notion that elected officials in Des Moines didn't care what went on outside the capital city. Throughout his 26 years in Iowa government, Branstad worked with this kind of tireless dedication as he helped improve the lives of Iowans.
Branstad is a life member of the UI Alumni Association.