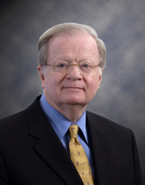 Stephen L. Ummel
---
Stephen L. Ummel, 65MA, is regarded as something of a miracle worker in the complex and challenging healthcare industry.
Born and raised in Iowa, Ummel came to the University of Iowa as a graduate student, earning his M.A. in hospital and health administration in 1965. He began his career as assistant administrator for Ohio Valley Hospital in Steubenville, Ohio, before moving on to become vice president for administration and chief operating officer of Rockford Memorial Hospital in Rockford, Illinois. In 1973, he returned to the UI as associate director and chief operating officer for University of Iowa Hospitals and Clinics (UIHC).
In this role, he provided exemplary support for John W. Colloton, UIHCs longtime executive director and CEO. Former UI president Willard Sandy Boyd says, In his professional career at the University of Iowa, Steve was a key partner with John Colloton in planning, funding, and accomplishing the rebuilding of UIHC. I consider that physical and funding accomplishment an administrative miracle.
Following subsequent positions as president and CEO at Memorial Hospital in South Bend, Indiana, and Memorial Health Services in Long Beach, California, Ummel was appointed in 1989 as president and CEO of Lutheran General Health System (LGHS). One of Americas most highly regarded regional systems, LGHS includes more than 70 hospitals, clinics, and other service units throughout the Chicago area.
During Ummels six years in this role, his reputation as a successful leader grew steadily. His strategic thinking and leadership skills were pivotal in the consolidation of LGHS and the Evangelical Health System to create Advocate Health Care, which is now ranked consistently as one of Americas finest integrated healthcare systems.
In 1996, Ummel was recruited by Ernst & Young—one of the worlds largest consulting firms—to the newly created position of principal and national advisor on integrated delivery systems. Then, in 2003, Ummel was invited to join PricewaterhouseCoopers, which recruited him for a leadership role because of his unique balance of successful executive experience and proven consulting skills.
Despite the demands of his career, Ummel has maintained a strong commitment to higher education and to the University of Iowa. Since 1984, he has served as an adjunct faculty member in the UIs Department of Health Management and Policy in the College of Public Health, and as a founding member of the colleges board of advisors.
In addition, he has published numerous articles and given dozens of formal presentations on varied healthcare topics. For decades, he has served as preceptor for summer internships and post-graduate fellowships for students in health services administration, including UI graduates. As a mentor for many students starting out in his profession, Ummel is respected for his attentiveness and for his belief in honesty, integrity, and hard work.
Regarded as a transformative leader willing to challenge the status quo, Stephen Ummel has touched the lives of many people—from the patients he has helped to the students he has mentored. He clearly embodies the best of Iowa: a strong commitment to excellence, deeply held values, and a sincere interest in others.
Ummell is a bronze-level member of the UI Alumni Associations Old Capitol Club.