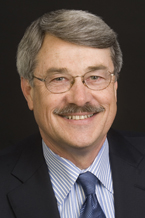 Stephen West
---
Stephen L. West, 69BBA, the president of West Music Company and Miyazawa Flutes, has made it his professional—and personal—mission to promote music education and music participation on a local, state, and national level.
After graduating from the University of Iowa in 1969 with a marketing degree, West joined his father, Pearl, at West Music Company. Since his start with the family business, West has led the growth of West Music from one location in Iowa City to seven retail music stores, education centers, and distribution outlets in Iowa and western Illinois. To strengthen the store's support of music education, he initiated the dissemination of a catalog to every elementary school in the United States, and expanded access to articles, methods, and products through the development of more than 15 e-commerce and international websites.
For decades, West has generously supported UI programs and departments by repairing instruments and offering constant support to the School of Music's faculty and students, and allowing Hancher Auditorium artists to conduct master classes and workshops in his stores. He provides pianos for local concerts, gives presentations to music education students, helps the School of Music with workshops and conferences, and supports guest artists and clinicians for the benefit of music students and the general public.
West recently made possible the restoration and transportation of a 19th century Steinway grand piano to its new home in the Old Capitol's Senate Chamber. West first worked with UI music faculty to find a piano that met their requirements and then contributed toward its purchase. His generosity enabled the museum to host Piano Sundays, which showcase Iowa's fine musicians and their talents to a broad audience.
West is also active in his community, having served various local arts and educational organizations, including the Iowa City Community Band, New Horizons Senior Band, Cedar Rapids Symphony, Noon Iowa City Rotary Club, Sunrise Optimist Club, and Kirkwood Community College Foundation. In 1990, he co-founded the Iowa City Chamber of Commerce Community Leadership Program, which educates area leaders on the issues facing the community and expands their opportunities for leadership.
West also has made an impact on music education throughout the state. He assists teachers through the Iowa Bandmasters Association and the Iowa Music Education Association. In 1989, he co-founded the Iowa Alliance for Arts Education, an advocacy group for arts programs in Iowa schools.
One of the most respected music dealers in the U.S., West has served for 19 years as a leader on the NAMM, International Music Products Association, board. In 1998, he received Iowa's Small Business Administration Entrepreneurial Success of the Year Award. West is co-founder of the Music Achievement Council, which works to develop and retain instrumental music students and teachers, and the International Foundation for Music Research, which promotes and funds studies on music and behavior. He is also a past president of the National Association of School Music Dealers and was honored in 2006 with Kappa Kappa Psi's Distinguished Service to Music Award.
In Iowa and farther afield, Stephen West is recognized for his abundant efforts to bring the life-enhancing benefits of music education and participation to musicians of all ages and abilities.
West is a member of the UI Alumni Association's Old Capitol Club and the UI Foundation's Presidents Club.