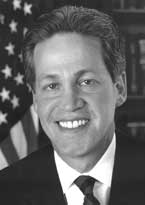 Norman B. Coleman
---
Norm B. Coleman, 76JD, knows how to accomplish change through action. Even as a University of Iowa law student, the Brooklyn, New York, native was honing the leadership skills he would need to implement local and global change throughout his professional life. These skills would inform his work in law, public policy, and politics—and eventually would help launch his career as a prominent United States senator.
Long before he was elected to this prestigious position, however, the UI graduate was busy working at the grassroots level. After finishing his undergraduate degree at New Yorks Hofstra University in 1971, Coleman arrived at the University of Iowa law school and quickly became involved in student government. He was president of the Student Bar Association and also chaired the Collegiate Associations Council, where he served with representatives from all of the UI colleges in addressing students academic concerns.
During his senior year at Iowa, Coleman received the Hancher-Finkbine Medallion in recognition of his outstanding academic and leadership achievements. He sustained this record of success after graduation, when he moved to Saint Paul, Minnesota, to work in the attorney generals office. Throughout his 17-year tenure with that office, the UI lawyer served as chief prosecutor and solicitor general and tried several high-profile and difficult cases.
In 1994, Coleman shifted his leadership focus to become Saint Pauls mayor, a position that allowed him to play a visionary role in transforming the city. By forging new partnerships between business and government, the transplanted Midwesterner revitalized Minnesotas capital. He created 18,000 new jobs through more than $3 billion in new development. In addition, he secured a National Hockey League franchise; helped create a new $90 million Science Museum of Minnesota; and made public safety, school initiatives, and land renewal among his top priorities.
These accomplishments did not go unnoticed: Coleman received the United States Conference of Mayors Award of Excellence in Public/Private Partnership in 2001 and also was the recipient of a public-service award from the Woodrow Wilson International Center for Scholars.
Colemans terms as mayor reinforced his interest in government, and in 1998, he was the Republican nominee for governor, narrowly losing to Jesse Ventura. This did not dampen Colemans enthusiasm for politics, however. One year after leaving the mayors office in 2001, he was elected to the United States Senate.
In his new leadership role, Senator Coleman serves as chairman of the Permanent Subcommittee on Investigations and also sits on the Subcommittee on Western Hemisphere, Peace Corps, and Narcotics Affairs. He also is a member of four committees: the Committee on Foreign Relations; the Committee on Agriculture, Nutrition, and Forestry; the Committee on Small Business and Entrepreneurship; and the Committee on Governmental Affairs.
Though Washington, DC, is a long way from the University of Iowa campus, Senator Norm B. Coleman still uses the skills he honed as a young law student. His UI values of commitment and service continue to define the quality of his leadership.
Senator Coleman is a life member of the University of Iowa Alumni Association.